Legend has it that, following his victory over the Visigoths at the Battle of Vouillé in the sixth century, the Catholic King Clovis I had a vision—to build a monastery for 1,000 monks on the land where the Tarn and Garonne Rivers meet.
Although this story has been largely discredited, the Abbaye de Saint-Pierre, in the centre of Moissac, is a magnificent example of Romanesque architecture and has been a major stop for pilgrims along the Chemin de Saint-Jacques since the tenth century.
If you are following my suggested itinerary along the Chemin de Saint-Jacques, you'll arrive in Moissac after three days of walking from Cahors. This may feel a little too soon to be considering a rest day, but if you are ready for a break, Moissac is an ideal choice.
(Published December 2013, last updated June 2020)
Call into the Tourist Office which is located next to the abbey. Ask for a map of the town (Plan de Moissac), which also shows two walking circuits around Moissac, and will be useful if you have time for some wider exploring.
No matter how much time you have available, make sure you visit the abbey and cloister, which are open to the public every day (hours vary depending on the season). There is a lot to see here so, if possible, allow yourself an hour or two to explore. Guided visits (en français) or audio guides (in many languages) are also available to give you a deeper understanding of the site's architecture and carvings. 
Construction of the abbey has been attributed to Clovis II, who ruled in the middle of the seventh century. The southern door is surrounded by elaborate carvings, including a tympanum depicting the Apocalypse, which was carved between 1115 and 1130.
Inside, the walls are painted in shades of yellow, terracotta and blue and several small chapels display beautifully painted statues and sculptures of Jesus, the saints and disciples.  
Over the centuries, the church has been restored and enlarged several times—as evidenced by the mixture of architectural styles and stone and brick work on the façade. 
The adjoining cloister was completed in 1100 and offers an oasis of calm—despite the many visitors (and the constant stream of wedding parties on a Saturday afternoon!).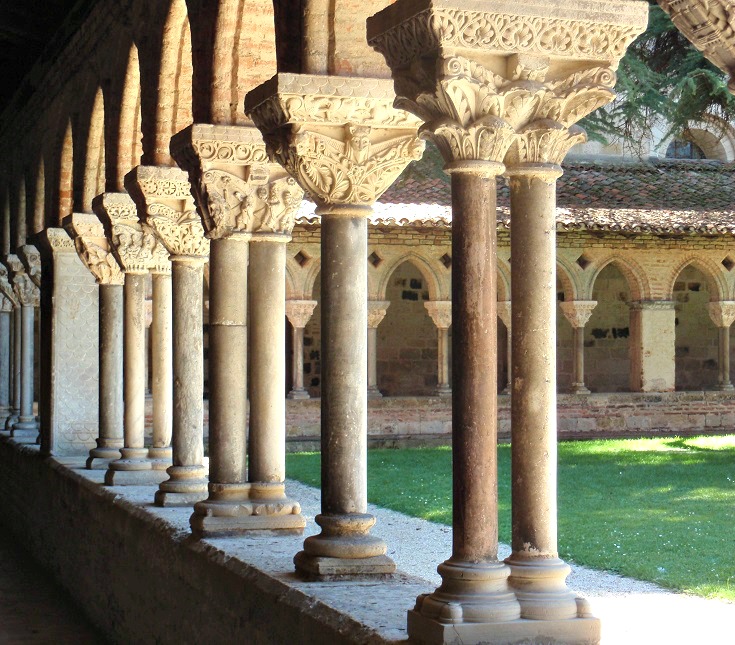 Seventy-six capitals, mounted on alternating single and double columns, line the cloister and depict the lives of saints and martyrs as well as stories from the Old and New Testaments. These delicate, and sometimes macabre, carvings are believed to be the oldest surviving capitals in the world. 
If you have time to explore the town a little more, follow the road beyond the railway to the top of the hill (green Circuit Parcours du Point de vue de la Vierge on Plan de Moissac). Here you'll find the Carmelite Convent, which shelters up to seventy walkers each night and offers spectacular views from the grounds over the rooftops of Moissac.
If you have an hour to spare, a short walk (also marked on your map of the town) will take you along the Canal lateral à la Garonne, which cuts through the centre of town and forms a bridge over the Garonne River as it heads south-east towards Toulouse.
From Moissac, the Chemin de Saint-Jacques follows the Canal latéral à la Garonne for three kilometres (two miles) before climbing the ridge to the village of Boudou. The lookout offers spectacular views, extending over the Garonne River to the cultivated fields beyond. 
From Boudou, the path slowly descends the ridge, rejoining the canal at Malause but, if you prefer to avoid the climb (and reduce the walk by more than one hour), you can choose to follow the canal from Moissac as far as Pommevic.
FAST FACTS
Which long-distance walk in France visits Moissac?
Chemin de Saint-Jacques du-Puy (Stage 4: Cahors to Eauze)
Moissac is located 430 kilometres (269 miles) along the Chemin de Saint-Jacques – a twenty-two day walk from the starting point of Le-Puy-en-Velay.
Click through to find my suggested itinerary for all five stages of the walk
If you prefer to set your own agenda, I share the steps I take to calculate distances on any long-distance walk (using the Chemin de Stevenson as a case study).
Daily train services run between Moissac and Cahors (with a connection in Toulouse).
Daily bus services connect Moissac with several villages along the Chemin de Saint-Jacques including Malause, Pommevic, Lauzerte, Espalais and Auvillar.
Tourist Office in Moissac 
You'll find the Tourist Office next to Abbaye Saint-Pierre. Opening hours are listed here.
Maps of Moissac can be downloaded from the Tourist Office website. This one has the guided walks marked, this one details some of the major events in the history of the town.
Accommodation in Moissac 
There are plenty of accommodation options in Moissac and you'll have no trouble finding something to suit your taste and budget.
Although it is not a common choice for those walking the Chemin de Saint-Jacques (there were no other walkers), I can personally recommend Le Moulin de Moissac which was one of the nicest and best value hotels I have stayed in. Our room offered beautiful views over the river and was a ten-minute walk from the abbey in the centre of town. Other options include –
Hotels
Le Moulin de Moissac
Hôtel Le Chapon Fin
Le Luxembourg 
Hôtel-Restaurant Le Pont Napoléon
Chambres d'hôtes
Maison du Pont St-Jacques   
Le Jardin Suspendu   
La Fuite en Égypte    
Chez Provensal    
Ultreïa   
La Halte aux Vergers  
La Maison Lydia   
Gîtes
Gîte Les Étoiles   
Gîte La Petite Lumière    
Gîte L'Ancien Carmel
Gîte La Coquille    
Gîte Maison Aliénor    
Gîte Auberge des Chemins   
Campground
Camping de l'Île du Bidounet    
How to book accommodation in French
Where to eat in Moissac 
From Place Roger Delthil in front of the abbey to Place des Récollets, Rue de la République is lined with cafés and restaurants and there are many more scattered beyond this central section of town. If you are staying at le Moulin de Moissac, I can thoroughly recommend the hotel restaurant which serves a variety of delicious dinners and superb desserts each night.
Moissac also boasts several supermarkets and specialty produce stores but if you are in town on a Saturday or Sunday morning, you'll find the fresh food market well stocked with local produce—perfect for a picnic lunch.
Practical tips for long-distance walking—preparation, packing and avoiding blisters