From Cahors to Eauze, the GR 65 Chemin de Saint-Jacques meanders through 193.3 kilometres (120.8 miles) of mostly gentle terrain.
On this walk, you will climb a few gorges and follow some shady paths through the forest, but for much of the way you'll find yourself surrounded by rolling hills and a patchwork of cultivated farmland. Tucked among those rolling hills are vast fields of sunflowers, and in summer, swathes of dancing yellow faces will keep you company throughout the day.
(Published August 2016, last updated April 2022)
Medieval splendour is on display here in this south-west corner of France. Over the last thousand years, several of the larger towns were once home to ruling noble families and have played important roles in the area's history.
Fortified bastide villages and towns occupy prominent positions on the ridges that separate the wide valleys—perfect locations for guarding against invading armies—and it's not difficult to imagine the battles that were fought here long ago. Although most of the châteaux and fortified walls were damaged during the Hundred Years War and the Wars of Religion in the fifteenth and sixteenth centuries, you will still see grand cathedrals and stone and timbered houses throughout your walk.
Where is the Chemin de Saint-Jacques in France?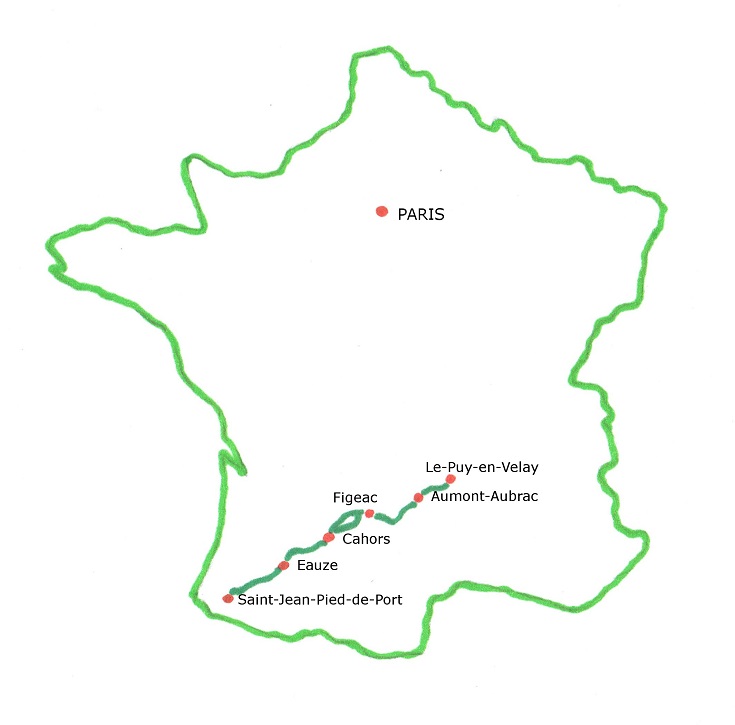 Map of the Chemin de Saint-Jacques from Cahors to Eauze
Highlights of Stage 4: Cahors to Eauze
Cahors
Cahors has occupied its position on a loop of the River Lot since Roman settlers arrived in the first century BC. Today, Boulevard Gambetta divides the town neatly down the middle—modern (nineteenth century) civic buildings to the west, and medieval splendour to the east. 
Allow some time to explore the town, including the Cathedral dedicated to Saint-Etienne with its tranquil sixteenth-century cloister and the famous Pont-Valentré, built with the help of the devil (learn more at the link above).
Cahors is famous for its red wine, made primarily from Malbec grapes and supplemented with Merlot and Tannat. Production of the wine is governed by the AOC (Appellation d'Origine Controlée) which sets strict guidelines on care of the vines, soil and harvesting times and methods. Wines produced under these regulations depend greatly on the mercy of the sunshine and local rainfall and result in vintages which vary from year to year. But they all contain a large dose of love (and none of the chemicals which usually give me a headache!).
If you have an afternoon to spare, ask at the Tourist Office about winery tours.
Moissac
Three days after leaving Cahors, you'll arrive in Moissac. If you find yourself looking forward to another rest day, then this beautiful town steeped in history is a good choice—particularly if your visit falls on the weekend when the markets are in full swing.
Be sure to set aside an hour or two to visit the cathedral and adjoining cloister. Audio guides, available from the Tourist Office behind the church, provide a detailed commentary of the architecture and the delicate carvings. The cloister was completed in 1100 and the seventy-six capitals adorning the columns are believed to be the oldest in the world.
As well as allowing your leg muscles some recovery time, a longer stay will enable you to climb the hill to the Carmelite Convent, and follow the canal a short way to the bridge crossing above the Garonne River—sights that are sometimes sacrificed in the interests of conserving energy or time.
Visit five of France's 'most beautiful villages'
Along this section of the walk, the Chemin de Saint-Jacques passes through four of France's 'most beautiful villages'. A fifth—Larressingle—is a one-kilometre (fifteen-minute) detour from the path. All of these lovely towns provide glimpses into medieval life in a fortified village and offer a delightful setting to enjoy a cold drink, lunch or an overnight stay.
Lauzerte – one of the earliest of France's bastide (fortified) towns, Lauzerte is a magnificent collection of protective stone walls and gates and ancient timbered houses.
Auvillar – admire the beautiful stone and timbered buildings clustered around the central covered halle, then head over to the remains of the château where you'll enjoy stunning views of the GR 65 path as it passes through Espalais.
La Romieu – a highlight of this section of the Chemin de Saint-Jacques is the UNESCO-listed, fourteenth-century church and cloister in La Romieu. Although a fire destroyed the wooden upper floors of the cloister in 1569 during the Wars of Religion, the delicate stonework of the ground floor arches remains, and frames the lovely garden beds in the centre of the cloister.
From inside the church, it is possible to climb the spiral stone staircase in one of the adjoining towers and enjoy the glorious views over the countryside.
Larressingle – this thirteenth-century fortified village survived the Hundred Years War and the Wars of Religion but was almost lost to decades of neglect. Thankfully, an Italian Duke fell in love with the stone towers and dry moat and raised funds for its restoration!
Montréal – you'll find a supermarket, pharmacy, banks and many other shops under the covered arcade enclosing the central square of this lovely town (much the same as did walkers centuries ago!).
Stock up on trail mix at the local markets
You'll find fresh food markets in full swing every day of the week (except Tuesday) somewhere between Cahors and Eauze. Chances are excellent that more than one of them will coincide with your visit so make the most of your good fortune and pack a picnic basket filled with delicious home-made produce.
Cahors—Wednesday and Saturday mornings
Montcuq—Sunday morning all year, Thursday morning in July and August
Lauzerte—Wednesday and Saturday mornings, Thursday evening in July and August
Moissac—Saturday and Sunday mornings
Auvillar—Sunday morning
Miradoux—Saturday morning
Lectoure—Friday morning all year, Monday evening in July and August
Condom—Wednesday, Saturday and Sunday mornings
Montréal—Friday morning
Eauze—Thursday morning
Chemin de Saint-Jacques itinerary from Cahors to Eauze
I often build a rest day into my walking schedule and if you do too, then Cahors and Moissac are both good choices, as suggested above. But for this section of the Chemin de Saint-Jacques du-Puy I have paced the journey slowly, so that none of the days are exceptionally long or tiring.
Many of the villages you'll pass through on this route are very small—barely larger than a cluster of houses—but several are worthy of a longer visit. Montcuq, Lauzerte, Moissac, Auvillar, Lectoure, La Romieu, Condom, Larressingle and Montréal all offer quaint side streets, ancient timbered houses, medieval halles (markets),—and sometimes a tower to climb—all enticing you away from the path for an hour or so.
Day 1 Cahors to Lascabanes (24.5 km/15.3 mi)
Day 2 Lascabanes to Lauzerte (23.5 km/14.7 mi)
Day 3 Lauzerte to Moissac (27 km/16.9 mi)
Day 4 Moissac to Auvillar (21 km/13.1 mi)
Day 5 Auvillar to Miradoux (17.3 km/10.8 mi)
Day 6 Miradoux to Lectoure (15 km/9.4 mi)
Day 7 Lectoure to La Romieu (19 km/11.9 mi)
Day 8 La Romieu to Condom (13 km/8.1 mi)
Day 9 Condom to Montréal (17 km/10.6 mi)
Day 10 Montréal to Eauze (16 km/10 mi)
Accommodation along the Chemin de Saint-Jacques from Cahors to Eauze
Accommodation is available along the Chemin de Saint-Jacques du-Puy between Cahors and Eauze at intervals to suit all walkers—no matter how fast or how slowly you are taking the journey.
The longest day on my suggested itinerary is day 4 from Lauzerte to Moissac—a day of hills, climbing and descending several times during the 27-kilometre (16.9-mile) journey. As you'll see below, this day can easily be broken up with overnight options available at several villages between the two.  
Accommodation is available in the following villages (click on each link for a comprehensive list).
Distances are given from the starting point of Le Puy-en-Velay (and assume the shorter, traditional GR 65 path has been followed between Figeac and Cahors).
If you have followed my suggested itinerary along the Célé valley, you'll have covered 359.7 kilometres (224.8 miles) when you reach Cahors.
(H—hotel; C—chambre d'hôte; G—gîte; T—camping)
338.8 km       (211.8 mi)       Cahors (H,C,G,T)
343.4 km       (214.6 mi)       + 800 metre detour to Les Mathieux (C,G)
350.3 km       (218.9 mi)       Labastide-Marnhac (C,G)
353.5 km       (220.9 mi)       Trigodina (G)
363.3 km       (227.1 mi)       Lascabanes (C,G)
367.4 km       (229.6 mi)       + 1 km detour to Escayrac (C )
372.8 km       (233 mi)          Montcuq (H,C,G,T)
379.8 km       (237.4 mi)       Montlauzun (G)
386.8 km       (241.8 mi)       Lauzerte (H,C,G,T)
389.7 km       (243.6 mi)       + 1 km detour to Trougnasse (C ) 
394.6 km       (246.6 mi)       Parry (G) 
399.3 km       (249.6 mi)       Durfort-Lacapelette (H,G) 
403.1 km       (251.9 mi)       Saint-Martin (G) 
410.1 km       (256.3 mi)       Espis (G) 
413.8 km       (258.6 mi)       Moissac (H,C,G,T)
429.8 km       (268.6 mi)       Pommevic (C )
433.3 km       (270.8 mi)       Espalais (C,G)
434.8 km       (271.8 mi)       Auvillar (H,G)
443.6 km       (277.3 mi)       Saint-Antoine (C)
445.1 km       (278.2 mi)       Villeneuve (C )
448.1 km        (280.1 mi)      Flamarens (G)
452.1 km        (282.6 mi)      Miradoux (C )
457.1 km        (285.7 mi)      Castet-Arrouy (C,G)
459.6 km        (287.3 mi)      Lasserre (C)
467.1 km        (291.9 mi)      Lectoure (H,C,G)
476.1 km        (297.6 mi)      Marsolan (C,G)
477.1 km        (298.2 mi)      Mieucas (C)
486.1 km        (303.8 mi)      La Romieu (C,G,T)
491.1 km        (306.9 mi)      Castelnau-sur-l'Auvignon (C,G)
499.1 km        (311.9 mi)      Condom (H,C,G)
504.1 km        (315.1 mi)      + 1 km detour to Larressingle (C,G)
516.1 km        (322.6 mi)      Montréal (C,G)
525.1 km        (328.2 mi)      Lamothe (T)
532.1 km        (332.6 mi)      Eauze (H,C,G)
How to book accommodation in French
Explore each stage in more depth –
Stage 1: Le Puy-en-Velay to Aumont-Aubrac
Stage 2: Aumont-Aubrac to Figeac
Stage 3: Figeac to Cahors
Stage 4: Cahors to Eauze
Stage 5: Eauze to Saint-Jean-Pied-de-Port
Ready to plan your walk along the Chemin de Saint-Jacques du-Puy?