Walking the Chemin de Saint-Jacques from Aumont-Aubrac to Figeac
This 163-kilometre (102-mile) section of the Chemin de Saint-Jacques from Aumont-Aubrac to Figeac is perhaps my favourite, featuring many highlights and special moments along the way. And while some find the vast open plains of the Aubrac to be empty and sometimes monotonous, I find them exhilarating and beautiful—enormous spaces filled with possibilities and room to think.
I've visited in the summer when the hills were ablaze with wild flowers and walked in the autumn when the air was clear and crisp. I've admired photos of the hills and villages blanketed in snow—not good for walking but mesmerizingly beautiful!
Apart from the gorgeous scenery, what else will you find on this section of the Chemin de Saint-Jacques?
Visit three of France's most beautiful villages
Between Le-Puy-en-Velay and Saint-Jean-Pied-de-Port, the Chemin de Saint-Jacques passes by ten of France's 'most beautiful villages'. The first three can be found along this section from Aumont-Aubrac to Figeac –
Saint-Côme-d'Olt—to visit all the historic monuments in this charming village you'll need to leave the GR 65 path and wander the back streets. Pick up a map from the Tourist Office to ensure you see them all.
Estaing—a stunningly beautiful village dominated by an eleventh-century château, nestled on the banks of the River Lot. I recommend taking the afternoon off walking and exploring the maze of picturesque alleys.
Conques—an important stop on the pilgrims' trail since the relics of the 13-year-old martyr Sainte-Foy were brought to the village in 866 AD. Vespers are held in the abbey church to welcome pilgrims each night at 6.30 pm and after the service, everyone gathers outside to hear the priest tell the story of Sainte-Foy and Saint-Matthew depicted in the twelfth-century tympanum above the entrance.
(What makes a village 'most beautiful'? To qualify as one of France's 'most beautiful villages', or plus beaux villages, a strict set of criteria must be met. This includes a rural setting, a population of less than two thousand and at least two historical monuments or sites that the town commits to protecting and preserving.)
Visit Aubrac
There's something about the cluster of ancient stone houses nestled in a dip of the rolling green hills (pictured at the top of this post) that always has me longing to strap on my boots and get walking again. I can still taste the French onion soup we enjoyed for lunch in Chez Germain and see the mouth-watering array of tarts laid out for dessert.
The picturesque village of Aubrac was built in the twelfth century by the pilgrim Adalard, who had been attacked by bandits when he passed through in 1120. He returned and built a monastery, church and hospital where up to 500 pilgrims could be fed and cared for each night.
Transhumance
If your walk along the Chemin de Saint-Jacques brings you to the Aubrac region in late May, you'll need to book your accommodation well in advance. On the Sunday closest to 25 May, the Transhumance—the annual migration of cattle to summer pastures—begins. Cattle are decorated with flowers and flags before the procession sets off along the road (not the GR 65) to Saint-Côme-d'Olt.
Rooms are booked many months, sometimes a year, in advance—be prepared to detour well off the path if you don't have a bed secured.
Explore the ruins of a fortified castle
Perched on a hill overlooking Espalion is Château Fort de Calmont d'Olt—a fortified castle dating from the Middle Ages. Guided tours are available or you can explore on your own.
I'll admit a visit to the château required climbing one hill too many as I walked the Chemin de Saint-Jacques but I had visited the previous year. If you'd like to see it, take a taxi up the hill from Espalion and continue your walk from the château (or perhaps ask the driver to return in an hour or two and take you on to Bessuéjouls).
Visit Église Saint-Pierre in Bessuéjouls
If you spend the morning at Château Fort de Calmont d'Olt, you may be tempted to take the taxi straight on to the next village of Estaing. Please don't, as you'll miss the hamlet of Bessuéjouls and the beautiful church dedicated to Saint-Pierre. Although the church was renovated in the sixteenth century, the adjoining twelfth-century bell tower was left intact. Stairs at the rear of the church will take you up to the ancient chapel honouring Saint-Michel.
Take a break in Figeac
Classified a ville d'art et d'histoire, Figeac is a beautiful town of almost 10,000 people spanning the River Lot. Filled with medieval stone and timbered houses, the backstreets and crooked alleys are a delight to wander through.
Figeac was the birthplace of Jean-François Champollion, the nineteenth-century French scholar who spent more than a decade deciphering the hieroglyphics of the Rosetta Stone. His home is now a museum where you can explore the history of writing.
If you have been walking since Le-Puy-en-Velay and have not yet stopped for a rest day, Figeac is the perfect place to take a break. The town boasts a full range of services—dozens of cafés, patisseries, chocolaterie as well as the ever-useful banks, doctors, dentists and ATMs!
Within an hour's drive from Figeac, you can visit the village of Rocamadour whose ancient buildings cling to the side of the cliff above the River Lot. Venture north for a further one-hour drive and stop to explore one of six of France's 'most beautiful villages'. My pick would be Collonges-la-Rouge but you can discover them all here.  For something completely different, visit the underground lakes and caves, 103 metres below the surface at Gouffre de Padirac. 
Stock up on trail mix at the local markets
Several villages along the way host a fresh food market once or twice a week providing the perfect opportunity to pack restock your trail mix supplies or pack a picnic lunch.
Aumont-Aubrac—Friday morning
Saint-Chély-d'Aubrac—Wednesday morning all year, Thursday evening in summer
Saint-Côme-d'Olt—Sunday morning
Espalion—Tuesday and Friday mornings all year, the first and third Wednesday evenings of July and August
Estaing—Friday evening in July and August
Conques—Thursday evenings in late July and August
Decazeville—Tuesday and Friday mornings
Figeac—Saturday morning
Dine at a Michelin-starred restaurant—or two!
This section of the Chemin de Saint-Jacques between Aumont-Aubrac and Figeac is blessed with two Michelin-starred restaurants. I'd like to tell you I've eaten at both (maybe I will one day) but I can tell you that the meal I enjoyed at Cyril Attrazic (attached to Hôtel Chez Camillou) was one of the most memorable meals I've had anywhere in France. (Prices range from €38 to €95 depending on whether you visit for lunch or dinner. Our dinner included five courses and wine for around €65 per head.)
Further along the trail at Conques, Hervé Busset serves lunch and dinner every night except Monday at le Moulin de Camblong. (Prices range from €40 to €110. Check the website for the full menu and opening hours of both restaurants.)
Chemin de Saint-Jacques itinerary from Aumont-Aubrac to Figeac
Many walkers complete this section from Aumont-Aubrac to Figeac in eight days. I prefer to make space in my schedule for a couple of free afternoons to explore the 'most beautiful villages' of Estaing and Conques. Both villages are impossibly gorgeous and even if you do nothing more than find a shady table in a café and put your feet up for the afternoon, these two slower days will provide a welcome chance to restore your energy.
Consult your TopoGuide as you start out each morning—there are several instances where a detour along a road or a variante of the GR 65 will help you shorten your daily walk (or avoid a hill) without compromising your sense of achievement at the end of the day.
Day 1 Aumont-Aubrac to Montgros (23.5 km/14.7 mi)
Day 2 Montgros to Saint-Chély-d'Aubrac (20 km/12.5 mi)
Day 3 Saint-Chély-d'Aubrac to Espalion (22 km/13.8 mi)
Day 4 Espalion to Estaing (11 km/6.9 mi)
Day 5 Estaing to Espeyrac (24.5 km/15.3 mi)
Day 6 Espeyrac to Conques (12.5 km/7.8 mi)
Day 7 Conques to Noailhac (8 km/5 mi)
Day 8 Noailhac to Livinhac-le-Haut (16 km/10 mi)
Day 9 Livinhac-le-Haut to Figeac (25.5 km/15.9 mi)
Accommodation along the Chemin de Saint-Jacques from Aumont-Aubrac to Figeac
Villages along the Chemin de Saint-Jacques du-Puy between Aumont-Aubrac and Figeac offer accommodation at intervals to suit most walkers. The longest section, on the final day, requires a walk of 19.5 kilometres (12.2 miles) from Montredon to Figeac.
Accommodation is available in the following villages, with distances given from the starting point of Aumont-Aubrac.
(H—hotel; C—chambre d'hôte; G—gîte; T—camping)
0 km                (0 mi)                   Aumont-Aubrac (H,C,T)
6.5 km             (4.1 mi)                Lasbros (G)
15 km              (9.4 mi)                Les Gentianes (G)
15.5 km           (9.7 mi)                Finieyrols (G)
20 km              (12.5 mi)              Rieutort d'Aubrac (C )
22 km              (13.8 mi)              La Grange des Enfants (C )
23.5 km           (14.7 mi)              Montgros (H,G)
26.5 km           (16.6 mi)              Nasbinals (H,C,G,T)
35.5 km           (22.2 mi)              Aubrac (H,C,G)
43.5 km           (27.2 mi)              Saint-Chély-d'Aubrac (H,C,G,T)
59.5 km           (37.2 mi)              Saint-Côme-d'Olt (C,G,T)
65.5 km           (40.9 mi)              Espalion (H,C,G,T)
68.5 km           (42.8 mi)              Bessuéjouls (C )
76.5 km           (47.8 mi)              Estaing (H,C,G,T)
92.5 km           (57.8 mi)              Golinhac (H,C,G,T)
101 km            (63.1 mi)              Espeyrac (H,G)
104.5 km         (65.3 mi)              Sénergues (G)
113.5 km         (70.9 mi)              Conques (H,C,G,T)
121.5 km         (75.9 mi)              Noailhac (C,G)
133.5 km         (83.4 mi)              Decazeville (H,C,G)
137.5 km         (85.9 mi)              Livinhac-le-Haut (C,G,T)
143.5 km         (89.7 mi)              Montredon (C )
163 km            (101.9 mi)            Figeac (H,C,G,T)
How to book accommodation in French
Where is the Chemin de Saint-Jacques in France?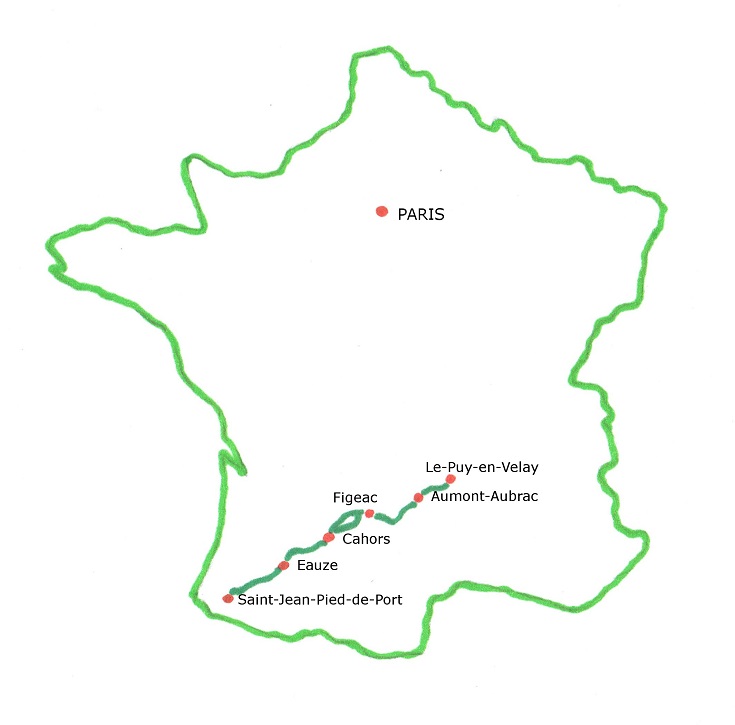 Map of the Chemin de Saint-Jacques from Aumont-Aubrac to Figeac
Ready to go?