If you've never set out on a long-distance walk before, the number of things to think about may seem overwhelming.
If you have…well, you know there are no problems that a little preparation won't solve and the results are SO worth it!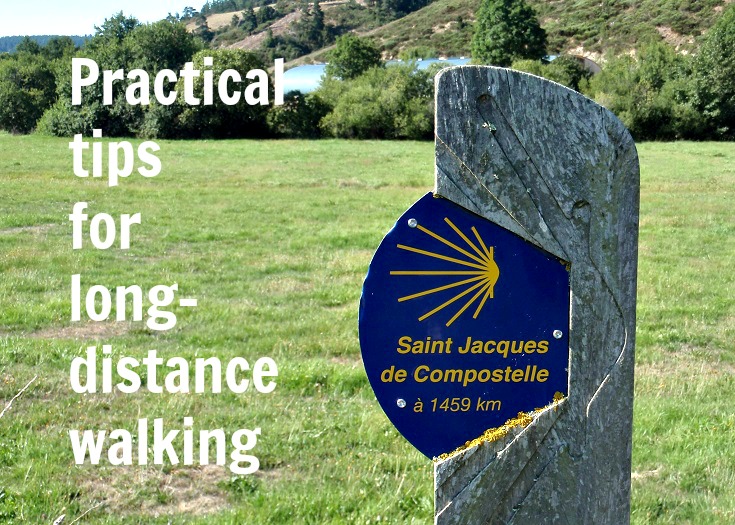 What do I need to take?
Your packing list for a long-distance walk will be completely different than if you were spending your holiday lounging around the pool at a seaside resort or being whisked from city to city on a coach tour.
Although many walkers (myself included) have their luggage transferred from hotel to hotel, many others follow a much less structured itinerary and carry everything with them each day. The trick then, is to take as little as possible!
After some trial and error, I've narrowed down my list to sixteen essential items plus a few optional extras and compiled them into a handy one-page printable checklist which I keep in my suitcase.
You'll find the checklist on page 16 of the guide to choosing a long-distance walk which you can download here 🙂 

Where will I stay?
The most common concern I hear from those dreaming of a long-distance walk is…
"Can I do this without camping or sharing a room with a dozen snoring strangers?"
Of course you can!
Even in small villages, there is likely to be a variety of accommodation available—from hotels, chambres d'hôtes, auberges, gîtes and campgrounds.
Finding a bed in your preferred type of lodging is often easier if you are willing to book ahead but what is a chambre d'hôte, an auberge, a gîte?
What's my TopoGuide?
Long-distance walking paths in France are known as Grand Randonnée, or GR, paths and are overseen by the Fédération Française de la Randonnée Pédestre (FFRP). They are well marked and well maintained by an army of dedicated volunteers.
And once you find the start of trail, it's a simple matter of looking out for the red and white blazes that keep you headed in the right direction.
Several organisations publish guidebooks which provide various levels of detail on the route, the villages you'll pass through and the distances between them. None help us to understand the terrain as well as the topographic maps in the TopoGuide, published by the FFRP. (Learn more about TopoGuides here.)
Personally, I love the TopoGuide because it allows me to see where I am in relation to the road (and perhaps take that route in heavy rain) and to see where a detour might avoid…you know, that one hill too many 🙂
If there is a TopoGuide published for my walk, you can be sure there will be a copy in my backpack!
How hard exactly is this walk going to be?
The thought of walking 800 kilometres (500 miles) or more can be an overwhelming idea!
Who does that?? And how fit to you need to be??
Well, I can do it, and I'm not young and I'm not that fit! (But I won't pretend that my feet aren't tired at the end of a week!)
Broken down into a series of twenty kilometre (twelve mile) daily walks, with the occasional rest day thrown in, a long-distance walk becomes a delightful way to explore the French countryside.
Of course, it is not necessary to complete all 800 kilometres in one holiday. Start with a week or two and, if you like it (which I know you will), return the following year for the next stage.
A walk along the Chemin de Saint-Jacques offers a different set of challenges to a walk along a canal. Compare a few and chose the type of walk that's right for you.
Perhaps a combination of walking and cycling is a more manageable option. Many paths in France are suitable for cycling—towpaths alongside canals originally provided access for horses pulling a barge, but today it is more likely to be cyclists whizzing past as you walk.
Walking safely and considerately
As with all outdoor activities, it's important to remember the sunscreen and always take as much water as you can comfortably carry each day. Refill your water bottles whenever you get the chance—in some tiny villages, it can be surprisingly difficult to find water or even the café listed in your guidebook.
REMEMBER—if water is marked non potable, do not drink it.
As you set out each day, remember that bakeries and grocery stores will close at lunchtime and may not reopen until as late as three in the afternoon, as well as closing for a full day each week. Quite often, all stores in a village choose the same day each week to close.
To avoid being caught with no food, buy supplies before you leave town each morning or carry enough trail mix to see you through. If you do happen across an open café at lunch time, you can choose whether to sacrifice your supplies and stop for a leisurely lunch or find a nice picnic spot and know that you still have a wonderful dinner to look forward to that night.
The usual rules of etiquette apply when walking in France—always take your rubbish with you and leave gates, open or shut, as you found them.
Smile a lot and say bonjour Monsieur or bonjour Madame to everyone you encounter.
Ready to start planning your walk?