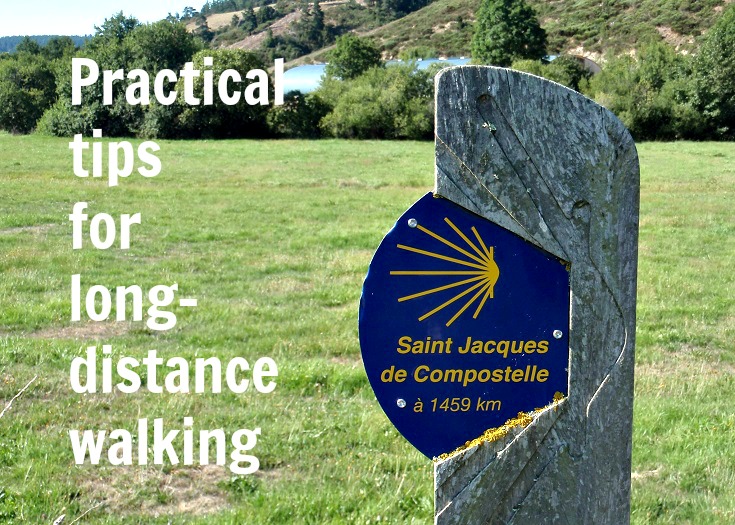 (Published November 2017, last updated July 2023)
Preparing for a long-distance walk can sometimes feel overwhelming! 
But there are no problems that a little preparation won't solve. And although these lessons have been learned along the Grands Randonnées of France, they can of course be applied to long-distance walks everywhere. 
GR paths, GRP paths and PR paths
Walking is almost a national pastime in France and tens of thousands of kilometres of paths criss-cross the country. 
No matter what your fitness level, your preferred choice of landscape or how much time you have available, there is a walk to suit you.  This network of trails is overseen by the Fédération Française de la Randonnée Pédestre (FFRP), an organisation which maintains all walking paths in France. 
Long distance paths, or Grand Randonnée, are referred to as GR paths and use a system of red and white blazes to mark the way. 
Shorter paths, confined to one region of France, are known as Sentier de Grand Randonnée de Pays or GRP trails and use red and yellow blazes. 
Local trails known as Sentier de Promenade et Randonnée or PR trails use single yellow stripes or, where there are multiple paths, multiple colours are used. 
The blazes are self-explanatory depicting left turns, right turns and wrong way. And once you find the start of the trail, it's a simple matter of looking out for the red and white blazes that keep you headed in the right direction.
GR paths are well-marked wherever there is a fork or other deviation but there will not always be a blaze or marking in sight. Keep your eyes open and look out for markings in unusual places—on trees, houses, fences and kerbs.
Choosing a guidebook
You'll find a range of guidebooks available for many of the most-loved walks in France, all providing various levels of detail on the route, the villages you'll pass through and the distances between them. 
My personal favourites are the TopoGuides published by the FFRP and if there is a TopoGuide published for my walk, you can be sure there will be a copy in my backpack!
Inside the TopoGuide, you'll find the path marked on a series of topographic maps, providing a clear visual understanding of the terrain and the proximity of the path to the nearest road. Many times, this has allowed me to detour off a muddy track in heavy rain or to see where a detour might avoid…you know, that one hill too many
Miam Miam Dodo guidebooks are another popular choice among walkers. Although I'm a devoted TopoGuide girl myself, what appeals to me may not appeal to you. When I walked the GR 70 Chemin de Stevenson in 2016, I carried both and put together a comparison of the TopoGuide and Miam Miam Dodo guidebook, along with some tips for reading topographic maps.
If there is no TopoGuide or other guidebook available for the path you are walking, the IGN map Series Bleu scale 1:25,000 will do just as well and will have your path clearly marked.  These are available online, at the IGN store in Paris (8 Avenue Pastor, Saint-Mandé) and sometimes at the local tabac.
It is also possible to track your location using the GPS tracker on your mobile phone with the iPhiGéNie app (a paid subscription service which is available for both Android and Apple phones.)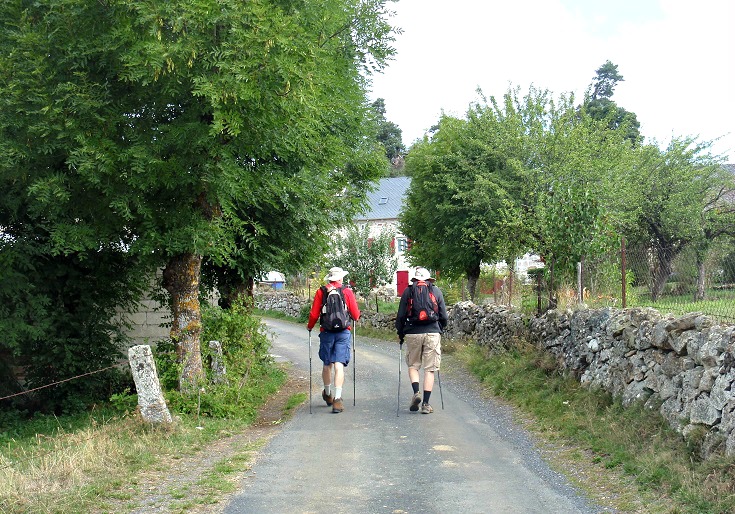 Packing list for a long distance walk
Your packing list for a long distance walk will be completely different than if you were spending your holiday lounging around the pool at a seaside resort or being whisked from city to city on a coach tour.
Although many walkers (myself included) have their luggage transferred between accommodations, many others follow a much less structured itinerary and carry everything with them each day. The trick then, is to take as little as possible!
After some trial and error, I've narrowed down my list to sixteen essential items plus a few optional extras and compiled them into a handy one-page printable checklist which I keep in my suitcase.
You'll find the checklist on page 17 of your guide – 3 Steps to Finding the Perfect Long Distance Walk 

How to prepare physically for long distance walking
The thought of walking a 740-kilometre (463-mile) walk such as the Chemin de Saint-Jacques du-Puy can feel a little daunting! (Of course, it is not necessary to complete all 740 kilometres in one holiday. Start with a week or two and, if you enjoy it, return the following year for the next stage.)
Luckily, there are plenty of shorter options such as the Chemin de Stevenson (270 kilometres/169 miles) or Martel to Rocamadour (127 kilometres/80 miles) or a section of any length along the coast of Brittany.
Finding the time to walk twenty kilometres a day until it feels easy is not feasible for most people. Start with thirty minutes of walking every day and build up gradually.
If you only have thirty minutes to spare each day, increase the intensity of your exercise—jog for a block or two, do five minutes of star jumps or burpies before you start walking.
I live near the bottom of a steep hill. Walking up and down it ten times leaves me exhausted, despite adding up to less than two kilometres!
Look for ways to build exercise into the things you do every day—take the stairs, get off the bus two stops earlier (you know the drill!).
How far will you walk each day?
For most people a walking pace of four kilometres (2.5 miles) per hour can be comfortably maintained throughout the day. This relaxed pace allows plenty of time to stop for a drink, admire the scenery and to take lots of photos. If you add in an hour for lunch and other rest stops, then anywhere between 16—25 kilometres (10—15 miles) is a reasonable target for a day's walk.
Although I have, in the past, started most walks covering 20—25 kilometres (12.5—15 miles) each day, I have come to appreciate the benefits of starting more slowly. Restricting my first week to shorter days of around 15 kilometres (9.5 miles) allows plenty of time to loosen up my leg muscles and ease into a comfortable walking rhythm, to notice any hotspots on my feet and take precautionary measures before blisters form, and to make final adjustments to my backpack before tackling any longer days.
(Learned the hard way – Tips for avoiding blisters on a long-distance walk)
Unless you are camping, the length of each day's walk will often be determined by the distance between villages. And, although it's likely you have a preference between staying in small hotels, chambres d'hôtes and gîtes, the more flexible you are willing to be, the more options you'll have when deciding where to stop for the night.
I am happy to stay in a hotel, chambre d'hôte or gîte (although I'm not fond of bunk beds) but I avoid camping. Not all villages will have a hotel so if you know that you will only be happy in a hotel with a private bathroom, then a longer day may be necessary from time to time. On these occasions, perhaps a rest day will ease any stiff muscles and sore feet.  
Accommodation in France can be confusing. What is a chambre d'hôte, an auberge, a gîte?
I like to think that walking through France is an excuse to wander from one gourmet meal to the next while exploring every ancient chapel and abandoned château along the way.  
The itineraries included in the I Love Walking in France guidebooks include a mixture of long and short days (and recommendations for rest days) allowing time to relax or explore some of the particularly beautiful villages. In addition to an itinerary which will ease you into the walk slowly, you'll also find faster itineraries which will reduce the time needed without sacrificing any of the highlights.
Is it necessary to pre-book accommodation?
When it comes to pre-booking accommodation, most walkers fall squarely into one of two camps—those who always do and those who can't imagine why deciding in advance where to stop each night would be a good idea.
Some walkers prefer to carry a tent and stop in the nearest campground each night, hunkering down with noodles and a can of tuna or maybe a baguette and a chunk of cheese and wine.
Many will book a bed a day or two in advance, planning their stages accounting for the weather, a rough idea of how far they'd like to walk and where friends they've made along the way might be staying.
Others will book everything in advance, having researched the path and discovered several 'must-do' towns or villages they look forward to exploring further.
No doubt, one of these options fills your heart with joy and the others make you somewhat nervous. Whether you choose to pre-book a private room and have your luggage transferred each day, or to carry a tent and camp in the nearest village each night, please know that there is no correct way to walk the chemin!
Rather than recommend one option over another, I suggest you consider the following points before committing to either plan:
Having your bed booked for the first three nights of any walk allows you settle in without worrying about whether or not you'll find a bed. If you prefer not to book far in advance beyond the three days, this will give you a chance to talk to your host and ask how busy the path is (are there plenty of empty beds?) and whether they have any recommendations for future stops. They may even help you to make a reservation if you do not feel comfortable communicating in French.

Certain times of the year are predictably busy for some walks (May and September is a busy time on the Chemin de Saint-Jacques, July and August is peak tourist season in the villages along the Martel to Rocamadour and coast of Brittany walks). But don't assume other times will be quiet. Talk to your host and other walkers to learn if beds are becoming scarce. (If you find yourself stranded, take a taxi to a nearby village for the night and return the next morning.)

If you stay in a chambre d'hôte or gîte and wish to partake in the communal dinner, your host will need to know in advance, before they head to the morning market to buy food. Making a reservation the night before, or no later than early that morning, is advised.

If you are having your luggage transferred, you'll need to know where you'd like your bags dropped. All transfer companies advise booking at least one day in advance which allows your schedule to remain fairly loose, but they also point out the transfer vans fill up fast during the peak summer months and on rainy days. They advise against leaving your booking until the last minute.


Whether you reserve a bed three months in advance or the morning before, there is a risk of overestimating or underestimating how far to walk. Bad weather, blisters, sore knees and a variety of unpredictable events can impact how much walking feels good on any particular day. If the day's walk feels too far, don't be afraid to stop in a village and call a taxi to your destination. And if you've underestimated how far to walk, find a café, put your feet up and enjoy an afternoon off.
Walking safely and considerately
As with all outdoor activities, it's important to remember the sunscreen and always take as much water as you can comfortably carry each day. Refill your water bottles whenever you get the chance—in some tiny villages, it can be surprisingly difficult to find water or even the café listed in your guidebook. If you find yourself running low, you'll find a source of drinkable water in the local cemetery (this is required by French law).
REMEMBER—if water is marked non potable, do not drink it.
As you set out each day, remember that bakeries and grocery stores will close at lunchtime and may not reopen until as late as three in the afternoon, as well as closing for a full day (usually Monday, and often Sunday) each week. On other days, you may find small cafés and roadside food stalls closed for a variety of reasons—the owner is sick, has ducked out to pick the children up from school, or the villagers are attending the funeral of a much-loved local (as has been my experience more than once!).
Treat every open café as a delightful surprise!
To avoid being caught with no food, buy supplies before you leave town each morning. You'll find a wide range of sandwiches available at the local boulangerie and, no doubt, a tempting array of tarts and pastries awaits you at the patisserie.
Of course, a good supply of trail mix—protein bars, nuts and dried fruit will last several days and cover any emergencies.
The usual rules of etiquette apply when walking in France—always take your rubbish with you and leave gates, open or shut, as you found them.
If I could give you just one tip to make your visit to France a memorable experience, it would be this—smile a lot and say bonjour Monsieur or bonjour Madame to everyone you encounter. The French are incredibly generous, friendly and helpful and will always appreciate any attempt to converse in their native language.
The Useful French Phrases section of your I Love Walking in France guidebook includes all the basics—yes, no, please, thank you and will also assist you with booking a room or a taxi, buying a train ticket, enquiring about breakfast or asking for a table at a restaurant. It also includes a list of the words I have found most useful when asking for directions or describing a walk—left, right, climb, descend, continue etc.
The best time of year for a long distance walk
Walking season in France extends from April through until October. Outside of these months, many areas will be under snow and walking under these conditions carries a set of challenges well beyond my area of expertise. Many hotels will be closed during this period also, making accommodation harder to find.
The busiest times for walkers varies depending on the walk (as mentioned earlier, May and September is a busy time on the Chemin de Saint-Jacques, July and August is peak tourist season in the villages along the Martel to Rocamadour and coast of Brittany walks).
Although daytime temperatures can be quite high in summer, the sunflowers will be blooming as you venture further south (and this is sufficient reason for me to endure a little heat!).
Many villages host an evening market only in summer and museums and châteaux remain open throughout the day, rarely closing for lunch, which will give you much more flexibility if there is an attraction you'd like to visit.
August is traditionally the month when the French take their vacation—including hotel proprietors (who knows where they stay!). I don't normally consider walking at this time but in 2018 I walked l'Échappée Jurassienne starting on the 26 August. Since these dates coincided with the last weekend of the French school holidays, we found the village of la Vieille-Loye completely booked out for our first night and had to rearrange our plans slightly.
In May and September, temperatures are much milder and walking is the perfect way to spend the day.
But, predicting the weather in any season is a risky call. (In June and July 2022, many sections of the Chemin de Saint-Jacques du-Puy experienced what were unusually high temperatures above 40 degrees Celsius. This June and July the high temperatures have returned along with some exceptionally stormy afternoons.)
My advice is to wear light layers which can be added and removed as needed. Always carry sturdy garbage bags to protect your belongings inside your backpack as well as wearing good weatherproof clothing.
Many clay or rocky paths become a slippery, muddy nightmare after heavy rain. Having my luggage transferred ahead forces me to keep pace with my suitcase but you may prefer to take each day as it comes and stay put for a day or two if the weather turns bad.
(TopoGuide maps show the walking path and the road making it easy to find an alternative route if you prefer to stick to a solid surface—but always be aware of traffic as the verge can be quite narrow.)
Canal towpaths, on the other hand, are often asphalt or gravel and not as affected by heavy rain. Wet-weather protection is still necessary, of course, but you are less likely to find yourself tiptoeing gingerly along a muddy track. 
Luggage transfers
Since I live in Australia, a walk in France will be one part of a longer holiday. I don't want to carry my dancing shoes on the walk. Nor do I want to lug my tent through Paris, so camping under the stars—as glorious as that may be—is just not a practical option for me.
The perfect solution is to have my luggage transferred on to my next destination each day. Luckily, there are several companies in France who will do this (although not all walks are covered, unfortunately).
The more popular walks are covered by several companies. Of those listed here, I have used La Malle Postale and Transports Claudine and can thoroughly recommend both. La Malle Postale (who I have used on the Chemin de Saint-Jacques, the Chemin de Stevenson and l'Échappée Jurassienne) have continued to expand their services and now cover parts of the coast of Brittany and many other walks throughout France.
La Malle Postale
Transbagages
Paty Services
Taxi Lample
Transports Claudine
Les Valises de Saint-Jacques   
In areas where no transfer service has been available, I have sometimes used a taxi to have my luggage transferred. The cost for a stage of around twenty kilometres (or one day's walk) was between 40 and 45 euros. If you are walking alone, this can be prohibitive but if shared among a few friends, the cost becomes more reasonable.
Is it safe to do a long-distance walk alone?
As a woman in her sixties who has walked both alone and with friends for over ten years, my experience is yes, it is safe to walk alone in France.
I do sometimes get lonely if I'm walking on my own and for me, the presence of other walkers is reassuring—both from a safety perspective and because it offers the opportunity for a chat 🙂 But sometimes, walks like these are partially about learning how we behave outside our comfort zone and that's all part of the journey!
I can't speak with authority on all walking paths but I can say that both the Chemin de Saint-Jacques du-Puy and the Chemin de Stevenson have a fair amount of foot traffic. It was very rare for me not to be able to see another walker a few hundred metres ahead or behind me and I feel confident that if I were injured someone would find me within an hour or two at most.
When I walked along the coast of Brittany alone in 2015, I had heard the path was dangerous in places. To minimise any risk, I took a car and walked for miles each day—and then walked back to the car! On weekdays, I had the coast to myself, but on weekends I shared the path with hundreds of locals out for some fresh air.
A few years later, I walked the Échappée Jurassienne with friends, and only encountered other walkers twice during the fifteen-day, 270-kilometre (170-mile) walk from Dole to Saint-Claude.
I wouldn't feel comfortable doing either the coast of Brittany or the Échappée Jurassienne alone, but that is a comment on my agility and fitness level, and not on any dangers that might be encountered along the way.
If getting lost or being injured and unable to get help is a big concern for you, perhaps a canal is your best choice (and if it turns out you are the first person ever to get lost walking along a canal, I'd love to hear from you!). If the worst should happen and you fall and break a leg, it will only be a short time before a cyclist or a boat comes by to rescue you!
Which long distance walks in France are suitable for cycling?
Good question!! I should let you know up front—I can't ride a bike!
Leaving that obvious obstacle aside, I choose walking because I like it. It forces me to slow down and pay attention to my surroundings, to notice the château far away on a distant hill or to fully appreciate a cold drink or cup of coffee from a café that has seemed a long way off for a long, long time.
But perhaps you've chosen a walk and have fallen in love with the places you'll visit but just don't have the time available to walk it? No problem!
Some paths are obvious choices for long-distance cycling.
Towpaths alongside canals were cleared for horses pulling barges but today, cyclists account for most of the land traffic. Many canals offer bike rental stations and some also provide repair stations for broken chains (or whatever it is that breaks on a bike!).
Other paths, including the Chemins de Saint-Jacques are not as suitable for cycling. The tracks can be rocky, muddy after rain and a cyclist following the Pilgrims' Trail would seem out of place.
But don't let this put you off!
All the villages you'll pass through on any long-distance walk in France are connected by road. Plug them into your GPS or carry a map and be on your way! Cyclists are common on the back roads of France and French drivers are exceptionally considerate. Take the usual safety precautions and there is no reason to miss any of the charm French countryside offers.
Learn more about walking (or cycling) along a canal
There is a walking holiday to suit every timeframe and every dodgy knee
France has so many options with accommodation and thousands of kilometres of walking paths that I do believe there is a walking holiday to suit every timeframe and every dodgy knee. Give a little thought to what you want the experience to be, spend some time planning to make sure it turns out that way and I know this will rate as one of your best holidays ever!
And of course, at the end of every day, reward yourself with a delicious meal and a glass of wine—as only the French can do!
Case Study – From planning to walking the GR 70 Chemin de Stevenson.
Choosing a walk and breaking it down into manageable daily stages can be just as difficult (but almost as much fun) as doing the walk. Learn how I chose this walk, planned my itinerary and booked my accommodation (including what to say in French).
Learn more about…
The Chemin de Saint-Jacques du-Puy
Or look inside an I Love Walking in France guidebook