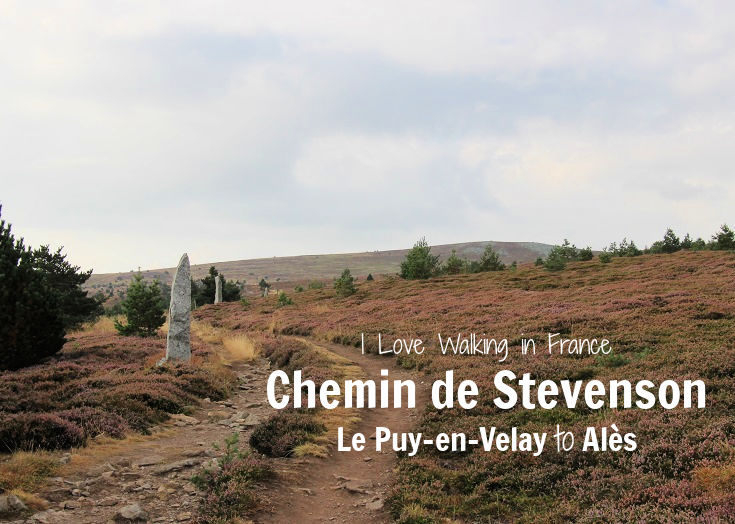 (Published September 2020, last updated May 2023)
When Scottish author, Robert Louis Stevenson, left the village of Le Monastier-sur-Gazeille in September 1878, with only his two feet and his donkey Modestine to carry him south, he could not have imagined that one hundred years later, thousands of walkers would be inspired to follow in his footsteps.
Over eleven days, the pair travelled through the Cévennes (one of France's most loved National Parks) and arrived in Saint-Jean-du-Gard, having walked a little over 225 kilometres (140 miles). Now extended at both ends to link Le Puy-en-Velay to Alès, the Chemin de Stevenson, or GR 70, is a spectacular walk—of gentle slopes, endless ridges, relentless hills and majestic landscapes.
On most days as we walked this route in 2016, we wondered if Stevenson had set a compass each morning, pointing at his destination for the day, and pushed on with little regard for the terrain! If there was a hill to be climbed or a ridge to be conquered, climb it or conquer it we did! But, as you'll see from the map below, the Chemin de Stevenson twists and curls its way south in anything but a straight line!
Where is the Chemin de Stevenson in France?
Map of the Chemin de Stevenson from Le Puy-en-Velay to Alès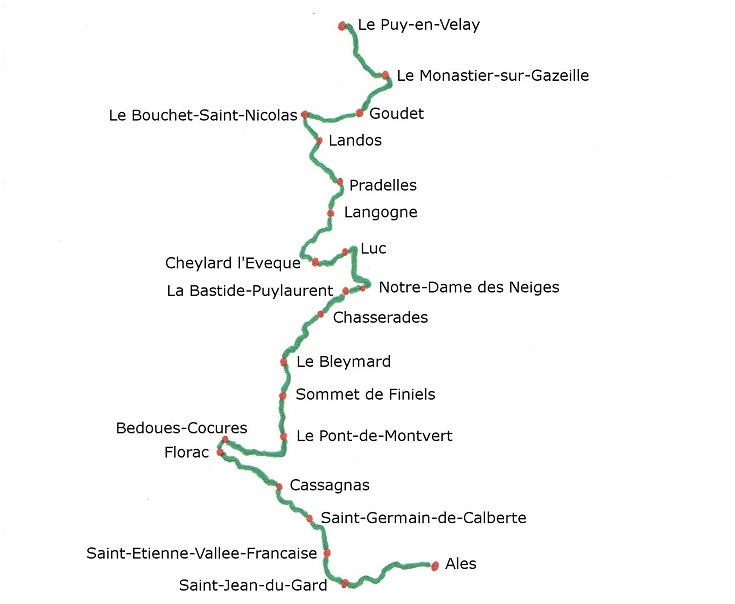 As I reread Stevenson's account of his journey in Travels with a Donkey (available to download free from the Gutenberg Project), I realised that although we passed through the same towns, the route he took often bore little resemblance to the path the GR 70 follows today. Most of the time, he followed the roads which, in the nineteenth century, would have been well-travelled by merchants and local farmers. Quite often, this route did take a less strenuous path, often following a river along the valley to the next village.
I can only imagine that the Chemin de Stevenson was mapped out by someone with a deep love for the rugged landscapes in this part of southern France and a desire to show off their much-loved backyard to visitors.
And what a magnificent job they have done!
For the first few days, the GR 70 passes through forests and farmlands and the countryside appears deceptively gentle (although your leg muscles will likely disagree!). This is quintessential rural France, dotted with small towns and farming communities. The clanging of cow bells heralds the beginning and end of each working day and cattle choke the quiet country roads as they make their way to and from the milking sheds. Life here feels productive and purposeful—and relaxed!
As the path approaches Mont-Lozère and climbs Col de Finiels (the highest point on the walk), the vegetation—and the livestock—disappears. This is a popular ski destination during the winter months and tall rock pillars mounted along the edge of the trail guide travellers through deep snow. But during the walking season, the path is open and exposed to fierce sunshine and biting winds.
Continuing south to the Cévennes National Park, the GR 70 returns to the shelter of the forest with occasional glimpses through the trees to the wooded hills beyond. As you conquer each ridge, you'll be richly rewarded with panoramic views of a landscape that appears to have been untouched for millennia.
Accommodation along the Chemin de Stevenson
There are plenty of options for overnight accommodation on a long-distance walk along the Chemin de Stevenson.
The longest section, from Le Pont-de-Montvert to Bédouès-Cocurès, requires a walk of 23.5 kilometres (14.7 miles) or, if you wish to spend the following night in Florac, you will need to cover an additional five kilometres (three miles) of walking. To avoid this, a shortcut along the GR 68 will allow you to reduce the walk by six kilometres. 
Between Le Puy-en-Velay and Alès, accommodation is available in the following towns, with distances given from the starting point of Le Puy-en-Velay.
0.0 km                 (0.0 mi)                Le Puy-en-Velay
19.3 km               (12.1 mi)              Le Monastier-sur-Gazeille
23.8 km               (14.9 mi)              Courmarcès
30.1 km               (18.8 mi)              Goudet
34.9 km               (21.8 mi)              Ussel
42.9 km               (26.8 mi)              Le Bouchet-St-Nicolas
49.4 km               (30.9 mi)              Landos
55.1 km               (34.4 mi)              Arquejol
63.6 km               (39.8 mi)              Pradelles
69.6 km               (43.5 mi)              Langogne
82.1 km               (51.3 mi)              Fouzilhac
85.5 km               (53.4 mi)              Cheylard-l'Évêque
97 km                  (60.6 mi)              Luc
104.2 km             (65.1 mi)              Laveyrune
113.5 km             (70.9 mi)              Notre-Dame des Neiges
117 km                (73.1 mi)              La Bastide-Puylaurent
127.3 km             (79.6 mi)              Chasseradès
128.3 km             (80.2 mi)              Mirandol
130.3 km             (81.4 mi)              L'Estampe
142.3 km             (88.9 mi)              Les Alpiers
144.3 km             (90.2 mi)              Le Bleymard
149.5 km             (93.4 mi)              Station du Mont-Lozère
158.3 km             (98.9 mi)              Finiels
163.6 km             (102.3 mi)            Le Pont-de-Montvert
187.1 km             (116.9 mi)            Bédouès-Cocurès
192.1 km             (120.1 mi)            Florac
201.7 km             (126.1 mi)            St-Julien-d'Arpaon
209.5 km             (130.9 mi)            Cassagnas
224.5 km             (140.3 mi)            St-Germain-de-Calberte
233.4 km             (145.9 mi)            St-Etienne Vallée-Française
246.1 km             (153.8 mi)            St-Jean-du-Gard
270.1 km             (168.8 mi)            Alès
How to book accommodation in French   
Chemin de Stevenson itinerary
The Chemin de Stevenson is a nature lover's delight and the vast landscapes and panoramic vistas are ample reward for what is often a tiring, and occasionally difficult, walk.
The GR 70 intersects or shares a route with several other Grand Randonnée paths along its entire length to Saint-Jean-du-Gard. The good news is that this often provides an opportunity to shorten a day's walk or bypass small sections altogether. The bad news, if you are not paying attention to the markers, is that you may find yourself in a village you hadn't planned to visit. If this happens, I suggest you stop at the nearest café, catch your breath over a cold drink, then cut your losses and ask the waiter to call a taxi to take you to the closest village on your intended path.
I have included the first and last sections from Le Puy-en-Velay to Le Monastier-sur-Gazeille (day 1) and from Saint-Jean-du-Gard to Alès (day 14) in my suggested itinerary, but Robert Louis Stevenson walked neither of these two sections. His journey began in Le Monastier-sur-Gazeille where he had been living for the previous month, making preparations for the walk. After eleven days of walking, his faithful donkey, Modestine, was declared unfit to continue and Stevenson made the final leg of his journey to Alès by stage coach.
Robert Louis Stevenson completed the walk from Le Monastier-sur-Gazeille to Saint-Jean-du-Gard in 11 days, but I recommend allowing plenty of time to walk each day and planning an itinerary that may be easier than you feel is necessary. This is a hilly walk and most days will be strenuous, or at the least, tiring.
Day 1    Le Puy-en-Velay to Le Monastier-sur-Gazeille (19.3 km/12.1 mi).
Day 2    Le Monastier-sur-Gazeille to Le Bouchet-Saint-Nicolas (23.6 km/14.7 mi).
Day 3    Le Bouchet-Saint-Nicolas to Pradelles (20.7 km/12.9 mi).
Day 4    Pradelles to Cheylard-l'Évêque (21.9 km/13.7 mi).
Day 5    Cheylard-l'Évêque to Laveyrune (18.7 km/11.7 mi).
Day 6    Laveyrune to Notre-Dame des Neiges (9.3 km/5.8 mi).
Day 7    Notre-Dames des Neiges to Chasseradès (13.8 km/8.6 mi).
Day 8    Chasseradès to le Bleymard (17 km/10.6 mi).
Day 9    Le Bleymard to Le Pont-de-Montvert (19.3 km/12.1 mi).
Day 10  Le Pont-de-Montvert to Bédouès-Cocurès (23.5 km/14.7 mi).
Day 11  Bédouès-Cocurès to Cassagnas (22.4 km/14 mi).
Day 12  Cassagnas to Saint-Germain-de-Calberte (15 km/9.4 mi).
Day 13  Saint-Germain-de-Calberte to Saint-Jean-du-Gard (21.6 km/13.5 mi).
Day 14  Saint-Jean-du-Gard to Alès (24 km/15 mi).
HIGHLIGHTS OF THE CHEMIN DE STEVENSON
Le Puy-en-Velay
Take a day before you start walking to explore Le Puy-en-Velay. Robert Louis Stevenson began his walk twenty-odd kilometres further south in Le Monastier-sur-Gazeille, but visited Le Puy on several occasions during the preceding month to commission a large, waterproof sleeping sack for his journey.
Although the township of Le Puy-en-Velay sprawls over quite a large area, there are many charming corners to discover in the historical heart, including the twelfth-century Cathédrale Notre-Dame du-Puy with its adjoining cloister and the tiny chapel dedicated to Saint-Michel which stands high on top of Rocher Saint-Michel d'Aiguilhe.
Take a look around Le Puy-en-Velay and find a comprehensive list of accommodation.
Le Monastier-sur-Gazeille
It was in the market place of Le Monastier-sur-Gazeille, that Robert Louis Stevenson met with an old man, one of the townsfolk known as Father Adam. Stevenson was in need of a beast of burden to carry his sleeping pack, food supplies and other essentials needed for his journey. Father Adam owned a small donkey that he used to pull his cart and after some vigorous haggling, Stevenson secured her purchase for the princely sum of 65 francs and a glass of brandy.
Long before Stevenson arrived, Le Monastier-sur-Gazeille was a thriving monastic community (records show that an abbey existed here as long ago as the fifth century). The current abbey church was completed by the end of the thirteenth century and is widely considered by medieval art specialists to be one of the most beautiful churches in the region.
In the fourteenth century, during the Hundred Years' War, the English army swept through France, ravaging the area and occupying the abbey. In 1364, they built a château alongside the church. This was destroyed by fire during the Wars of Religion in the late sixteenth century, but was soon rebuilt. Today, the ground floor of the château houses a museum and in early August concerts are held in the courtyard.
Take a look around Le Monastier-sur-Gazeille and find a comprehensive list of accommodation.
Pradelles
The picturesque village of Pradelles is ranked among France's most beautiful villages, but rated barely a mention in Robert Louis Stevenson's journal. He noted that he stopped for lunch, but rejected his host's suggestion to pay a visit to Chapelle Notre-Dame where a statue of the Madonna, credited with performing many miracles, graced the high altar.
Since it is the only most beautiful village along the Chemin de Stevenson, Pradelles was a must-do stop for the night on my itinerary and its charming stone houses and quaint alleys did not disappoint.
Chapelle Notre-Dame was built in the early 1500s to house a statue of the Virgin Mary unearthed during construction work on a wall of the adjoining hospital. In 1586, when a raging fire destroyed this corner of Pradelles, only the chapel emerged unscathed. Two years later when the English attacked during the Wars of Religion, the townspeople were victorious and the Madonna's status as divine protector of the village was firmly in place. In gratitude for her bestowed blessings, the chapel was replaced with a larger version in 1609.
Take a look around Pradelles and find a comprehensive list of accommodation.
Château de Luc
High on a ridge overlooking the village of Luc are the ruins of a château. Built in the twelfth century, the heavily fortified castle provided protection for the villagers, successfully defending the area through the Hundred Years' War and the Wars of Religion in the fourteenth and sixteenth centuries. But in 1630, during the reign of Louis XIII, orders were given to dismantle the château.
Thankfully, the dismantling was never completed and several towers remain. At the time of Stevenson's arrival, the statue of the Virgin Mary had only recently been hoisted into place and a dedication ceremony was scheduled for the Sunday of the following week.
More recently, the association Les Amis de Château du Luc was formed to oversee the preservation and to keep the history of the ruins alive. Plaques detailing the original purpose of each remnant can be found throughout the site and offer an insight into its turbulent past.
Abbaye Notre-Dame des Neiges
Despite being raised a Protestant and later confessing to a monk that he considered himself a heretic, Robert Louis Stevenson detoured away from the main road at La Bastide-Puylaurent and headed east to the Abbaye Notre-Dame des Neiges.
In the twelfth century, the mountains here had sheltered four monasteries. Life within their walls had continued peacefully until the French Revolution in 1789 when monasteries throughout France were sold and the monks evicted. A century later, the new owner of one of the monasteries chose to return the building to the Cistercian order of monks.  
When Stevenson arrived in 1878, a new monastery—named Our Lady of the Snows—had been constructed and 90 monks had settled within the abbey. When I passed through, only ten monks called Abbaye Notre-Dame des Neiges home but the population swelled each night when 60—65 walkers (based on attendance at dinner) were welcomed into the former monks' quarters.
Sadly, the last monks left Abbaye des Notre-Dame des Neiges in September 2022, but a newly-arrived group of eight nuns will continue to offer accommodation from 21 April until 17 October 2023.
The abbey operates as a donativo, meaning that payment for lodging is by cash donation only. A simple but hearty dinner, cooked by one of the nuns, is served at communal tables, and guests are given instructions to wash and pack away the dishes before leaving the kitchen area. Breakfast is a similar affair of oranges, bread, yoghurt and coffee—and again, strict instructions to leave a clean kitchen!
Le Pont-de-Mont-Vert
On Sunday morning 29 September 1878, Robert Louis Stevenson reached the highest point on his journey, Col de Finiels. He described the view "into the hazy air of heaven, and a land of intricate blue hills beneath his feet".
"These were the Cévennes of the Cévennes." he noted, recalling stories of the legendary Camisards—local, untrained Protestant peasants who had waged a guerrilla war against the might of the French army 180 years earlier. "In that undecipherable labyrinth of hills, a war of bandits, a war of wild beasts, raged for two years between the Grand Monarch with all his troops and marshals on the one hand, and a few thousand Protestant mountaineers on the other."
It was with great anticipation that Stevenson continued on over the hills to Le Pont-de-Montvert where the war began.
The village of Le Pont-de-Montvert oozes with historic charm and stories of the war fought by the Camisards in the early eighteenth century are evident around every corner. The buildings described in Stevenson's journal are easily identified and it is fun to stand at the entrance to the bridge and imagine an approaching mob of angry farmers, intent on freeing their brothers held captive within the tower walls. (You can read Stevenson's account of the war in his journal Travels with a Donkey and a summarised version in the I Love Walking in France guidebook.)
Le Pont-de-Montvert is one of the prettiest towns along the Chemin de Stevenson and the perfect spot for a lazy afternoon relaxing in a café near the river. The town is small enough to wander the streets without getting lost, but to find the church and other landmarks, call in to the Tourist Office near the bridge and ask for a map.
Take a look around Le Pont-de-Montvert and find a comprehensive list of accommodation.
Cocurès
Most walkers leave Le Pont-de-Montvert aiming to reach Florac, located 28.5 kilometres (17.8 miles) along the GR 70. This is a long day and many take advantage of a six-kilometre shortcut by switching to the GR 68 just past Col du Sapet. In the interests of staying faithful to the Chemin de Stevenson, we continued along the GR 70 and stopped a few kilometres before Florac in the village of Cocurès.  
Spending a night in Cocurès was not my preferred option as I planned our agenda. Although Robert Louis Stevenson passed through the village, it requires a short detour from the current GR 70 path. But it was a serendipitous decision and one of the highlights of the journey. Our hotel, La Lozerette, was undoubtedly the best of the trip—the room was spacious and charming and the dinner was superb!
As we continued our walk the next morning, the jumble of narrow streets through Cocurès soon converged on the parish church. Built in the nineteenth century and dedicated to Saint-Jean-Baptiste, the interior was a raucous symphony of richly decorated walls and colourful stained-glass windows—a truly delightful surprise which my photos fail to do justice!
How to plan an itinerary that suits you
If the thought of planning a long-distance walk feels too complicated, here you'll find a step-by-step process (based on the Chemin de Stevenson). Of course, if you rather not do any of the research yourself, you'll find it all done for you in the Chemin de Stevenson edition of the I Love Walking in France guidebook.
More tips on long-distance walking – preparation, packing and avoiding blisters
Pros and cons of booking accommodation in advance
Most walkers fall squarely into one of two camps when it comes to pre-booking accommodation—those who ALWAYS do and those who can't imagine why deciding in advance where to stop each night would be a good idea.
Rather than recommend one option over the other, I suggest you consider the following points before committing to either plan:
If you are having your luggage transferred along the Chemin de Stevenson, you'll need to know where you'd like your bags dropped. All transfer companies advise booking at least one day in advance which allows your schedule to remain fairly loose, but they also point out that transfer vans fill up fast during the peak summer months and on rainy days. They advise against leaving your booking until the last minute.

Some of the larger towns along the Chemin de Stevenson host a busy calendar of festivals and fairs throughout the warmer months attracting visitors from near and far. Although these towns often have a greater supply of beds, savvy locals know that rooms will fill fast at peak times and will often book many months in advance.

As I looked for accommodation in March for a September walk, I found all beds in Cheylard l'Évêque already booked and a slight change to our plan was required. If you are young and fit, walking a few extra kilometres to the next village may not be a problem. But if you are a little older (like me!) and have been dreaming of an icy cold Orangina for the last hour or two (also like me!), any unexpected delays are most unwelcome!

Abbaye Notre-Dames des Neiges is a popular stop on the chemin, and our night there was one of the highlights of the walk. Many other walkers, including a couple who had tried to book three months in advance, missed out as the complex was fully booked. If you have your heart set on any aspect of a trip, I recommend booking as soon as the date of your visit is known.
Luggage transfers along the Chemin de Stevenson
Several companies offer luggage and people transfers along the Chemin de Stevenson. Each one requires you to leave your bags in the foyer by 8 AM each morning and they will be dropped at your next hotel some time during the afternoon. (If you have a short day of walking planned, it is possible you will arrive before your luggage.)
Each company has slightly different price rates, weight restrictions and operating seasons. If you are walking very early or very late (before mid-April or after mid-October) in the season, check carefully that the service is available when you need it.
Of the companies listed below, I use La Malle Postale. Over the years, they have proved reliable, responsive to questions (the staff speak several languages) and very helpful when I needed to veer slightly away from their standard set of drop off points. Their website is easy to use (with English, German and French versions) and payment is via a secure system.
La Malle Postale (Le Puy-en-Velay to Alès)
Transbagages (Le Puy-en-Velay to Saint-Jean-du-Gard)
Balades Cévenoles (Le Puy-en-Velay to Alès) 
The best time of year to walk the Chemin de Stevenson
Walking season in France extends from April through until October. Outside of these months, many areas will be under snow and walking under these conditions carries a set of challenges well beyond my area of expertise. Many hotels will be closed during this period also, making accommodation harder to find.
The peak period for walkers is June, July and August, although daytime temperatures can be quite high during these summer months. Le Monastier-sur-Gazeille, Florac and Saint-Jean-du-Gard host an additional weekly market in July and August and museums and châteaux remain open throughout the day, rarely closing for lunch, which will give you more flexibility if there is an attraction you'd like to visit.
August is traditionally the month when the French take their vacation—including hotel proprietors! This is less common, but not unheard of, in smaller villages and I try to avoid walking during this month.
In May and September, temperatures are much milder, the path is usually less crowded and walking is the perfect way to spend the day.
From my experience, you are more likely to encounter rainy days in May and my preference is to plan a September walk. I should mention though that when we completed this walk over the first two weeks in September 2016, severe storms prevented us walking on the last day from Saint-Germain-de-Calberte to Saint-Jean-du-Gard (we caught a ride with the La Malle Postale van) and, when I first published this post in late September 2020, Saint-Jean-du-Gard and the southern Cévennes was experiencing severe flooding.
The best guidebook for the Chemin de Stevenson
…other than an I Love Walking in France guidebook, of course!
By far the most common guidebooks carried by walkers I've met are the TopoGuide and the Miam Miam Dodo guides. Both are written in French but the layout and map presentations are quite different.
As I walked the Chemin de Stevenson, I purchased and carried both the TopoGuide and the Miam Miam Dodo guide. This comparison of the two guidebooks includes photos, likes and dislikes and a purchasing guide to help you navigate the online stores (in French). 
My personal favourite (for any long-distance walk in France) is the TopoGuide as I find the topographic maps enormously helpful for getting a feel for the terrain. 
TopoGuides are published by the Fédération Française de la Randonnée Pédestre (FFRP), the non-profit organisation which oversees the maintenance and sign-posting of all long-distance walking paths in France—with the aid of an army of dedicated volunteers. Without their tireless efforts, long-distance walking would not be possible and I am happy to support them by purchasing their guidebooks.
Ready to start planning your own walk?
"All the hard research and planning has been done for you! Inspirational!"
"In 2014 I completed the first few stages of the Chemin de Stevenson before an injury forced me to go home early, now that I've read Melinda's guide book I am seriously thinking about going back to finish it.
All the hard research and planning has been done for you so all you have to do is make some bookings then go and walk it. Inspirational!" – Richard Winter

Purchase the 2023 edition of the Chemin de Stevenson (PDF) guidebook