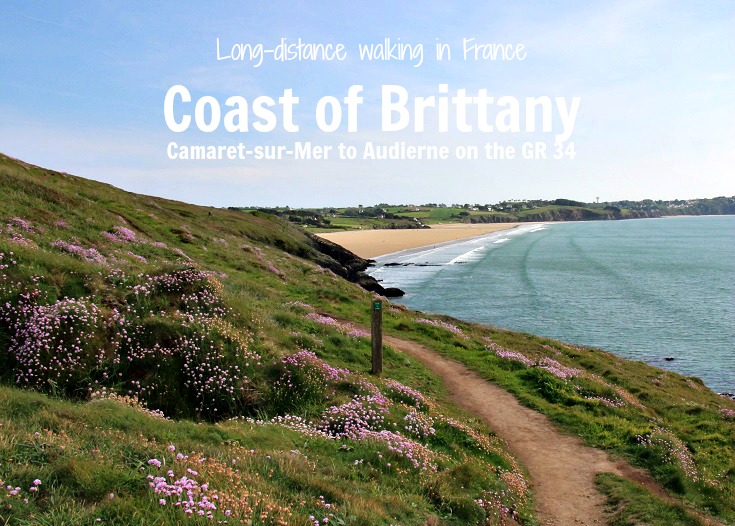 (Published July 2017, last updated May 2023)
From rugged headlands and dramatic cliffs, to swathes of dancing wildflowers, wide sandy beaches and quaint fishing ports—this 159-kilometre (99-mile) walk from Camaret-sur-Mer to Audierne following the GR34 along the coast of Brittany has it all!
During my initial research for this walk, I found that some Tourist Office websites described the GR 34 path as being dangerous in many places. As someone with a poor sense of balance, who is not good at clambering up rock faces, this news was a little disconcerting to me. What, exactly, made the path dangerous, I wondered? Was I likely to fall off a cliff? Or would I find myself having to sidle along narrow ledges, high above the ocean?
With this in mind, I decided that rather than walking the path alone from one end to the other, I would take a car to which I could retreat if the going got tough, and just do a LOT of walking.
My verdict on the section from Camaret-sur-Mer to Audierne?
Most of this walk follows a gentle route—there is very little strenuous climbing and, on a sunny day with a gentle breeze, I would rate this (and continuing along the GR 34 to Lorient) as my favourite walk in France!
On many occasions during my journey, I found myself sitting on a rock, admiring the view—unable to believe the world could be this beautiful!
However, there were sections of the walk where I needed to put away the camera and pay closer attention to what I was doing. In high winds or driving rain, this walk would be beyond my skill and experience level and I would need to take a taxi to reach my accommodation for the night. And, while I never felt in danger of falling into the ocean, I was aware that if I twisted an ankle, it might have been difficult to get help or make my way back to town. Of course, walking with a group will mitigate this risk.
Many sections of this walk are unsuitable for anyone with a fear of heights, as the path often skirts close enough to the edge of the coast that there is simply no denying that you are, indeed, a long way up!
The perfect way to approach this walk is to carry a tent, check the weather each day and walk as far or as little as feels comfortable. Campgrounds are plentiful but, during the peak summer period of July and August, it is advisable to phone ahead each morning and secure a campsite.
If you are an experienced—and sure-footed—walker, I can think of no more glorious way to spend a week or two!
Where is the coast of Brittany in France?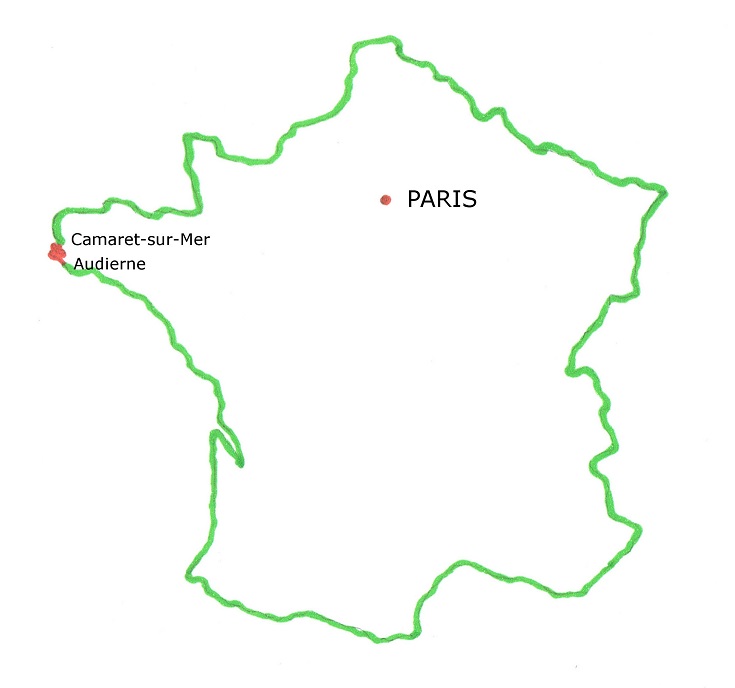 Map of the GR 34 path from Camaret-sur-Mer to Audierne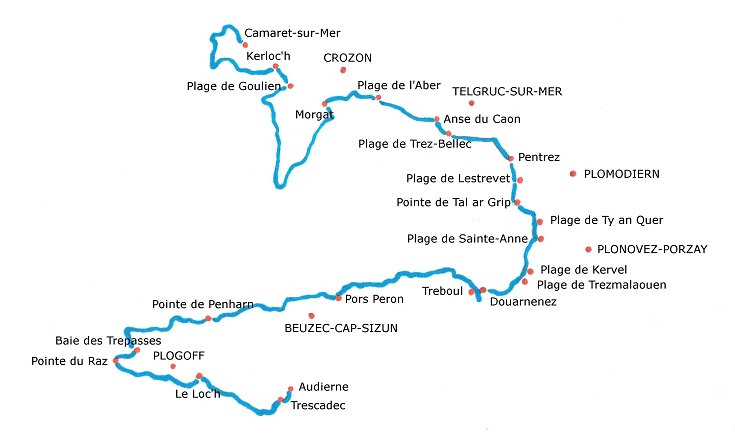 Accommodation along the coast of Brittany from Camaret-sur-Mer to Audierne
There is an abundance of campgrounds scattered throughout Brittany and the coast is a popular destination for French holiday-makers. But there are also lots of options if you are not carrying a tent. 
The longest section, from Plage de Goulien to Morgat, requires a walk of 23 kilometres (14.4 miles), but this could be shortened by taking a shortcut across the peninsular (see the map near the top of this post).
Accommodation is available in the following towns (click on each link for a comprehensive list).
Distances are given from the starting point of Camaret-sur-Mer.
0.0 km            (0.0 mi)                Camaret-sur-Mer
15.1 km          (9.4 mi)                Kerloc'h
17.9 km          (11.2 mi)              Plage de Goulien
40.9 km          (25.5 mi)              Morgat
46.9 km          (29.3 mi)              Plage de l'Aber
55.4 km          (34.6 mi)              Anse du Caon
56.6 km          (35.4 mi)              Plage de Trez-Bellec
64.1 km          (40.1 mi)              Pentrez
66.6 km          (41.6 mi)              Plage de Lestrevet
68.5 km          (42.8 mi)              Pointe de Tal ar Grip
71.2 km          (44.5 mi)              Anse de Ty Mark
73.2 km          (45.8 mi)              Plage de Ty an Quer
74.8 km          (46.8 mi)              Plage de Sainte-Anne
75.2 km          (47 mi)                 Trefeuntec
78.7 km          (49.2 mi)              Plage de Kervel
79.3 km          (49.6 mi)              Plage de Trezmalaouen
81 km             (50.6 mi)              Lanevry
81.8 km          (51.1 mi)              Plage de Ry
84.9 km          (53.1 mi)              Douarnenez
87.5 km          (54.7 mi)              Tréboul
95.5 km          (59.7 mi)              Pointe de la Jument
102.9 km        (64.3 mi)              Pors Péron
119.6 km        (74.7 mi)              Pointe de Penharn
132.4 km        (82.8 mi)              Baie des Trépassés
135.5 km        (84.7 mi)              Pointe du Raz
146.4 km        (91.5 mi)              Le Loc'h
157 km           (98.2 mi)              Trescadec
159 km           (99.4 mi)              Audierne
How to book accommodation in French and many more practical tips for long-distance walking
Suggested itinerary for walking from Camaret-sur-Mer to Audierne
I am usually happy to walk between twenty and twenty-five kilometres (12.5 to 15 miles) each day, with the occasional longer day of thirty kilometres (19 miles) when necessary. But a few very blustery days and threatening skies on this exposed, and sometimes narrow, track convinced me to slow down—and to not do this walk alone.
This is a walk best taken carefully, without the daily pressure of needing to complete a lot of kilometres. Bad weather will make your days challenging, rather than just miserable, and for this reason, many of my suggested days are shorter than my usual recommendations.
My suggested itinerary assumes that you are not carrying a tent and will stop only where hotel or chambre d'hôte accommodation is available.
I have spread this walk of 159 kilometres (99 miles) over eleven days, which allows plenty of time to visit the Information Centre at Pointe du Raz, watch the short film that you'll find there, and poke around the souvenir shops. I have also included a rest day at Trescadec, which I would use to take the ferry out to Île de Sein—the island to the west of Pointe du Raz. You could certainly shorten your trip by skipping the rest day and not dilly-dallying at Pointe du Raz.
The last two kilometres (1.2 miles) from Trescadec to Audierne can easily be done on the last morning, on foot or by taxi (depending on your luggage), before catching the bus on to Quimper and wherever you are headed next.
Day 1 Camaret-sur-Mer to Kerloc'h (15.1 km/9.4 mi).
Day 2 Kerloc'h to Morgat (25.8 km/16.1 mi).
Day 3 Morgat to Pentrez (23.2 km/14.5 mi).
Day 4 Pentrez to Douarnenez (20.8 km/13 mi).
Day 5 Douarnenez to Pors Péron (18 km/11.3 mi).
Day 6 Pors Péron to Pointe de Penharn (16.7 km/10.4 mi).
Day 7 Pointe de Penharn to Baie des Trépassés (12.8 km/8 mi).
Day 8 Baie des Trépassés to Le Loc'h (14 km/8.8 mi).
Day 9 Le Loc'h to Trescadec (10.6 km/6.6 mi).
Day 10 Stay a second night in Trescadec and spend a day exploring Île de Sein.
Day 11 Trescadec to Audierne (2 km/1.2 mi) and on to your next destination.
If you prefer to go faster, or slower, follow these helpful tips for planning an itinerary. The example uses the GR 70 Chemin de Stevenson as a case study but the steps can be applied to any long-distance walk.
When is the best time of year to visit Brittany?
Brittany is a holidaymakers' paradise—you'll find that you are never very far from a campground, sailing or surf school and I imagine that, during the summer months, campsites will be hard to find unless you book in advance.
When I visited in May, it was much quieter—the weather was quite unpredictable (as is often the case during spring in France) and on weekdays, I was mostly alone on the path. Sunday afternoons, however, were a different story and I found myself sharing the path with hundreds of spritely walkers—and their dogs—who clearly did not suffer from my balance limitations!
The best time to visit Brittany, in my opinion, is early September just after the school holidays finish. The summer crowds have returned home, museums and other attractions are still open throughout the day (although likely to close for lunch) and the weather will most likely be mild and sunny.
Luggage transfers along the coast of Brittany
La Malle Postale, who I have used extensively on other walks in France, have recently expanded their services to include walks in Brittany. (Transfers for this walk can be booked using either the Crozon Peninsula or Point du Raz and Cornouailles coast from their list of hikes.)
Your suitcase will be dropped off at pre-arranged hotels—which means you will need to know in advance where you are staying. Make sure your bags are very clearly labelled and have them in the foyer by 8 am.
Several taxi companies in this region also provide a luggage transfer service. As none of these companies have a website, you can't book this service before you leave home. However, making a phone call each morning of your walk should enable you to arrange for your luggage to be deposited at your next hotel or chambre d'hôte. If you don't feel confident that your French speaking skills are up to the task, ask your host to do this for you. (Phone numbers for taxis providing this service are included in the guidebook.)
HIGHLIGHTS OF THE WALK FROM CAMARET-SUR-MER TO AUDIERNE
Camaret-sur-Mer
Easily accessible by bus from the major towns of Brest and Quimper, Camaret-sur-Mer is an ideal spot to start your walk—and to while away an afternoon. Call into the Tourist Office and ask for a map of town, then head west towards the port.
Not far along is the Maritime Museum, housed in a former fish cannery and displaying photographs and artefacts from the 1930s. As you follow the path out along the peninsula, you'll pass a collection of abandoned boats left to decay in the port when falling fish numbers led to a decline in the industry in the mid-twentieth century.  
A little further on is the seventeenth-century Chapelle de Notre-Dame de Rocamadour. Inside is a statue of the Virgin Mary. (Legend has it that whenever a sailor prays for assistance at sea, the bell above her head rings spontaneously.) At the far end of the peninsula stands Tour de Vauban which, although not quite complete when English and Dutch navies attacked the area in 1694, contributed to the French victory over the invaders.
Morgat
Like many port towns in Brittany that were badly damaged during WWII, the seaside resort of Morgat consists mostly of colourful concrete buildings constructed over the last sixty years. Although lacking the quaint historic charm of many villages, it offers several opportunities to relax over a cup coffee or enjoy a cold drink overlooking the water. 
At the bottom of this link, you'll find a comprehensive list of accommodation in Morgat.
Douarnenez
In a clearing in the woods as you approach Douarnenez are the remains of buildings, believed to have been built by the Romans sometime between the first and fourth centuries CE. These buildings form part of a complex where the local sardine catch was processed—an industry has continued here for almost 2,000 years. 
When you reach town, call in to the Tourist Office, ask for a map (or download one here), and take a self-guided walk past seventeen of the town's most important historic sites (plaques located at each site provide more information). If you prefer a more in-depth visit, sign up for one of the guided tours provided by the Tourist Office.
At the bottom of this link, you'll find a comprehensive list of accommodation in Douarnenez.
Pointe du Raz and Île de Sein
The most westerly point in mainland France, Pointe du Raz was one of the first areas to be awarded Grand Site de France status, providing protection to 2,000 hectares of land around the peninsular.
Inside the Information Centre, you'll find models and displays explaining the diversity and history of the area. A twenty-minute film runs throughout the day highlighting the joys and struggles of daily life as experienced by villagers living on Île de Sein—a small island located eight kilometres (five miles) due west of the point. If the stories capture your imagination, it's possible to visit the island at the end of your walk on the ferry which leaves daily from Saint-Evette near Trescadec.
Audierne
Although grey and gloomy at the time of my visit, Audierne is a beautiful port town and well worth spending an hour or two exploring. Ask at the Tourist Office for a map which suggests a 45-minute walk around town, passing several historic sites before climbing the hill for spectacular views over the port.
At the bottom of this link, you'll find a comprehensive list of accommodation in Audierne.
Experience a Breton Pardon
In hundreds of villages throughout Brittany, one weekend each year is dedicated to observing the pardon. A centuries-old tradition long abandoned in other parts of France, the pardon is held to honour the patron saint of the parish and ask for his or her blessing. Villagers dress in traditional costumes and parade through the town, carrying a statue or cross before returning to the church to celebrate Mass.
Between Camaret-sur-Mer and Audierne, a walk along the GR 34 offers two opportunities to enjoy this unique Breton festival.
The Pardon of Saint-Anne is one of the most important in Brittany and has been held every year since 1549. Celebrations begin on the last Saturday in August and continue over the next three days. (You'll find more photos and some history behind the Pardon of Saint-Anne halfway through this post.)
Further along the coast towards Pointe de Raz, a small chapel dedicated to Saint-They sits high on the cliff top. The chapel is classified as an historic monument and is normally closed to the public. But on the first Sunday in July, the doors are opened for the celebration of the Pardon of Saint-They. Festivities begin with a small flotilla of boats off the coast at le Vorlen. From there the cross is carried north along the cliffs to the chapel.
If your walk coincides with either festival, it is wise to book accommodation well in advance as competition for a bed or a campsite will be fierce.
Stock up on trail mix at the local markets
There are limited opportunities to visit local markets as you follow the GR 34 along the coastline. Between Camaret-sur-Mer and Audierne, the path visits only four towns—Camaret-sur-Mer, Morgat, Douarnenez and Audierne—large enough to offer a full range of services such as a grocery store, ATM, pharmacy—and a weekly market.
Camaret-sur-Mer—Tuesday morning in July and August; the third Tuesday of the month throughout the year
Morgat—Tuesday evening in July and August; the first, third and fifth Wednesday of the month from mid-June until mid-September
Douarnenez—every day except Sunday
Audierne—Saturday morning
Should you run low on supplies, you may find you need to venture further inland to one of the small towns that serve as the commercial hub for each commune. These towns are easily reached by taxi and, on market day, offer additional opportunities to stock on local delicacies. You'll find markets at:
Crozon—Every morning in July and August; every day except Monday throughout the year
Telgruc-sur-Mer—Tuesday and Friday morning
Plomodiern—Monday evening in July and August; Friday morning throughout the year
Plogoff—Friday morning 
Extend the walk to include Le Faou and Landévennec
My first thought when planning this walk was to start in Le Faou (then classified as one of France's most beautiful villages), follow the GR 34 to Landévennec and on through the villages of Lanvéoc and Le Fret—reaching Camaret-sur-Mer some sixty kilometres (38 miles) later.
While Le Faou and Abbaye de Landévennec were delightful and I thoroughly recommend you visit both, I found this section of the GR 34 less inspiring. For much of the way, the path is set a little way back from the coastline or high above the waterline and views of the ocean are blocked by thick shrubby vegetation. I found the going tedious with not enough highlights to warrant three days of walking.
A few kilometres before reaching Camaret-sur-Mer, the GR 34 joins the coastline and the vegetation disappears. From here the views are spectacular and this is where I recommend starting your walk.
Bus line 34 runs from Brest (a major town with airport and train access)  to Le Faou and then on to Landévennec and Camaret-sur-Mer. On Tuesday and Thursday during the summer months, the bus makes an additional mid-day run and it is possible to visit Le Faou in the morning and the abbey in the afternoon before catching the last bus to Camaret-sur-Mer. On other days of the week, a taxi will take you from Le Faou to Landévennec.
What will you see in Le Faou and Landévennec?
Le Faou
Le Faou is a picturesque village at the mouth of the Faou River. Overlooking the water is the sixteenth-century church dedicated to Saint-Sauveur and a little further along the main road, a stone arch built in 1695 marks the entrance to the old cemetery.
On Friday morning, local producers set up stalls along the quay where you'll find seasonal fruits and vegetables and home-made cheeses, yoghurt and jams.
At the time of my visit (in May 2015), the Le Faou was listed among France's 'most beautiful villages' and it did not disappoint. From the colourful shutters to the flower-filled gardens, the village oozed with charm.
(To qualify as one of France's most beautiful villages is no easy task—requirements include a rural setting, a population of less than 2,000 and at least two historical monuments or sites which the town commits to preserving. Le Faou is no longer listed on the association's website but I'm sure it's just as beautiful today as it was in 2015!)
Abbaye de Landévennec
From Le Faou, the GR 34 heads west past the Cimetière des Navires (where French naval ships are laid to rest) and on to Landévennec.
Here on a headland, but well-protected within the bay, are the ruins of the medieval Abbey de Landévennec
Built in the fifth century by Saint-Guénolé and his followers, the monastery is believed to be the oldest in Brittany. A community of monks prospered here until 913 CE when the village was raided by Vikings and the monks fled. They returned several decades later, restoring the monastery and building additional housing for the monks.
The abbey was sold during the French Revolution and the monks disbanded. For a time, the site was used as a stone quarry but recent archaeological excavations have revealed the foundations of many of the tenth-century buildings. Little more than an outline remains of the original buildings but the decapitated pillars of the abbey church evoke the grandeur of this ancient place of worship.
Add an hour to your stay in Landévennec to wander the streets of the village and visit the parish church and cemetery on the water's edge.
Alternative loop returning to Le Faou from Pentrez via Ménez-Hom
At Pentrez, a new path—the GR 37—leads walkers inland, climbing slowly for ten kilometres (6.25 miles) to the glorious heights of Ménez-Hom. From there, the GR 37 continues north across the Crozon peninsula, rejoining the GR 34 nine kilometres (5.5 miles) further along at Pont de Térénez. The two paths turn right, crossing the bridge and returning to Le Faou.
If you would like to visit Abbaye de Landévennec but were not able to do so at the start of your walk, stay on this side of the bridge and turn left onto the GR 34. Landévennec is located 8.5 kilometres (5.4 miles) further along the GR 34 path.
The 30.2-kilometre (18.8-mile) walk from Pentrez to Le Faou can be broken with an overnight stay at Coat Carrec, which is located five kilometres (3.1 miles) past Ménez-Hom.
Luggage transfers along this inland route are serviced by La Malle Postale and you'll find accommodation in Coat Carrec at La Halte de Coat Carrec.
Day hikes along the coast of Brittany
If you are inspired to walk this stunningly beautiful part of France but suspect it might be more challenging than you'd like, FFRandonnée publishes two TopoGuides, packed with short circular walks, which might be a good compromise.
Réf. 293 La presqu'île de Crozon et la vallée de l'Aulne offers fifteen walks along the coast between Camaret-sur-Mer and Douarnenez (and several more inland and further north).
Réf. 294 L'Ouest Cornouaille…à pied offers fourteen walks between Douarnenez and Audierne (and almost forty more continuing along the coast).
(Follow the GR 34 along the coast of Brittany from Camaret-sur-Mer to Audierne from the comfort of your armchair)
Ready to plan your walk along the coast of Brittany?
Download the 2023 (PDF) edition of the I Love Walking in France guidebook—The Coast of Brittany from Camaret-sur-Mer to Audierne
99 pages packed with dozens of photos, taxi phone numbers, links to accommodation websites and train and bus schedules, Tourist Offices, market days, where to find a pharmacy or an ATM, useful French phrases—and many more practical tips!