Section 2: Morgat to Douarnenez
Section 2 of the eleven-day walk along the GR 34 from Camaret-sur-Mer to Audierne starts in Morgat and reaches Douarnenez two days and 44 kilometres (27.5 miles) later.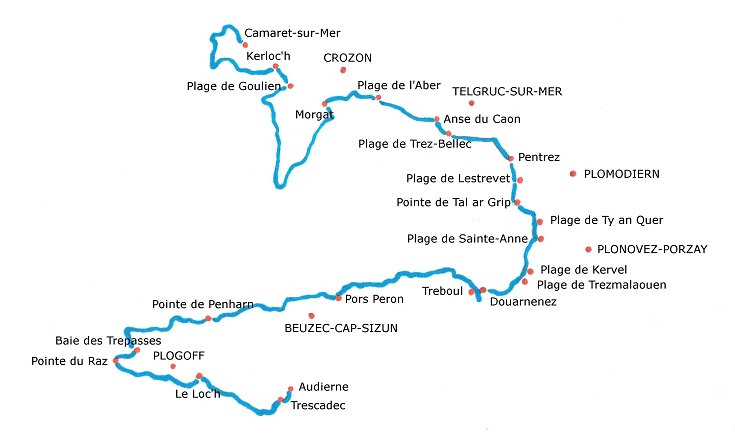 So far, we've walked—
Section 1: Camaret-sur-Mer to Morgat (41 kilometres/25.5 miles)
From Douarnenez, we'll follow—
Section 3: Douarnenez to Baie des Trépassés (47.5 kilometres/30 miles) and
Section 4: Baie des Trépassés to Audierne (26.6 kilometres/16.6 miles)
If you prefer to travel faster or slower, you'll find a map and a list of all villages where accommodation is available towards the end of this post and suggestions for your overnight stay in Morgat here.
An hour or so past Morgat, the GR 34 path takes a long detour inland around the estuary behind the beach at Plage de l'Aber.
Time your walk for low tide and you can probably take a shortcut across the sand.
The inland path soon rejoins the coast and a gentle climb to the headland at Pointe de Raguénez.
Looking back over Plage de Trez-Bellec.
Views around the headland from Pointe du Bellec.
Distant view of Plage de Trez-Bellec from Pointe du Bellec.
Twenty-three kilometres (14.5 mi) after leaving Morgat, you'll reach Pentrez. During the summer months, this seaside village is packed with holiday makers enjoying the outdoor cafés, wind sailing and surf schools.
Here you'll find a variety of accommodation with one small hotel Au Soleil Breton, one chambre d'hôte La Maison Gouriten and two campgrounds le Domaine de Ker Ys and Menez Bichen making it the perfect place for an overnight stop after the third day of walking.
When I first considered walking the GR 34 along the coast of Brittany, plan was to start sixty-odd kilometres north of Camaret-sur-Mer in the 'most beautiful village' of le Faou. But aside from a few highlights, such as le Faou and the abbey ruins at Landévennec, this section of the path didn't appeal to me so much and I left it out of the guidebook.
But…if you are planning a walk along this part of the trail and prefer a circular route back to your starting point, then turn left here in Pentrez and follow the GR 37 inland, up to the glorious heights of Menez Hom and across the peninsula back to le Faou.
As a bonus, la Malle Postale has added this loop to the routes along which it provides luggage transfers. (Read more about le Faou and Landévennec.)
Further south from Pentrez towards Douarnenez, the beach Pors ar Vag looks somewhat gloomy on this cool and cloudy morning.
Sunny skies and glorious walking weather around Pointe de Tal ar Grip.
Rain clouds rolling in over Anse de Kervijen.
I wasn't sure what affaissement meant off the top of my head but I was pretty sure it wasn't a good thing!
(For the record…it means subsidence.)
Kites flying above Plage de Ty an Quer on a Sunday afternoon.
Although I found myself mostly alone on the path on week days, on Sunday afternoons it seemed that everyone in Brittany was headed for the beach—despite the less than ideal weather!
On a sunny day, when the skies are blue and the green grass is punctuated by dots of white houses, and sometimes sheep, there is no part of France more beautiful than Brittany.
Take a short detour from the GR 34 path to Saint-Anne la Palud to visit the chapel—although the term chapel is clearly no indication of size!
Legend says that in the sixth century, a chapel honouring Sainte-Anne, mother of the Virgin Mary, was built here on the dunes close to the sea and surrounded by inland lagoons. Unfortunately, the shifting sands swallowed that chapel long ago.
Subsequent churches have been built further inland to avoid the same fate. The current church, an imposing neo-gothic structure, was built in 1858 and can be reached by detouring 600 metres up the hill along the road beside the hotel.
An ornate porcelain statue of Sainte-Anne rests in an alcove inside the church, and every year the statue is carried over the sand dunes during the annual pardon.
(A pardon is a centuries-old tradition, long abandoned in most other parts of France, but still observed in Brittany. Held to honour the patron saint of the parish and ask for his or her blessing, villagers dress in traditional Breton costumes and parade through the town, carrying a statue or cross before returning to the church to celebrate Mass.)
The pardon of Sainte-Anne is one of the most important in Brittany and has been held every year since 1549. Celebrations begin on the last Saturday in August and continue over the next three days.
At the entrance to the church stands this statue of Saint-Guénolé who built the original chapel.
It's not often a beach is packed firm enough to ride a bike along but the inlet here at the end of Plage de Saint-Anne is regularly flooded by the incoming tide (no need to worry about sand finding its way into your boots here!).
Trefeuntec Inlet—the perfect place to sit and enjoy an afternoon snack.
Sunny skies on the approach to Plage de Kervel.
The village of Kervel—and, as it turns out, that cluster of buildings over to the right includes a couple of cafés.
Looking north over Plage du Ry from the path into Douarnenez.
First views of Douarnenez—glistening like slivers of a rainbow despite the gloomy skies.
GR paths often take a rather boring and, let's say visually unappealing wander through industrial zones as they approach larger towns.
The industrial buildings on the path into Douarnenez however, were built by the Romans and date from sometime between the first and fourth centuries. These ruins are part of a complex where the local sardine catch was processed—an industry that has continued here for almost 2,000 years.
Beyond the ruins, the path passes through a forest filled with ferns and wildflowers!
Unlike many other coastal ports which were badly damaged during WWII, Douarnenez retains many of its older buildings such as this row of mismatched terraces which provides an appealing contrast to the modern, concrete port buildings on the right.
Every day is market day in Douarnenez (except Sunday). You'll also find a supermarket, pharmacy, ATMs, a doctor and many cafés.
Since Pentrez was a distant 20.8 kilometres (13 mi) back, Douarnenez is a good choice to stop for the night after the fourth day of walking. As well as the accommodation listed below, you'll also find a campground and several other options two kilometres further along on the far side of the port at Tréboul.
In Douarnenez, you'll find accommodation at—
Le Clos de Vallombreuse
Le Kériolet
Hôtel de France
Le Bretagne
Le 20 d'Ys
How to book accommodation in French
You'll find a complete list of accommodation available in all villages from Camaret-sur-Mer to Audierne (plus lots more useful information) in the guidebook.
Go back—
Section 1: Camaret-sur-Mer to Morgat (41 kilometres/25.5 miles)
Continue on—
Section 3: Douarnenez to Baie des Trépassés (47.5 kilometres/30 miles) 
Section 4: Baie des Trépassés to Audierne (26.6 kilometres/16.6 miles)