Section 3: Douarnenez to Baie des Trépassés
Section 3 of the eleven-day walk along the GR 34 from Camaret-sur-Mer to Audierne starts in Douarnenez and reaches Baie des Trépassés three days and 47.5 kilometres (29.7 miles) later.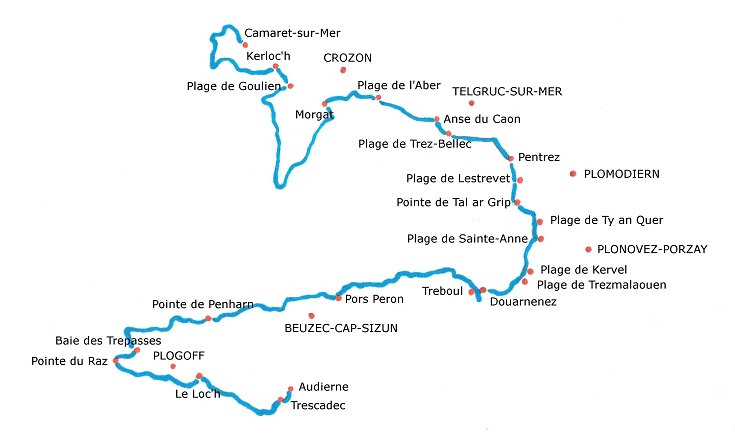 So far, we've walked—
Section 1: Camaret-sur-Mer to Morgat (41 kilometres/25.5 miles)
Section 2: Morgat to Douarnenez (44 kilometres/27.5 miles)
From Baie des Trépassés, we'll follow—
Section 4: Baie des Trépassés to Audierne (26.6 kilometres/16.6 miles)
If you prefer to travel faster or slower, you'll find a map and a list of all villages where accommodation is available towards the end of this post and suggestions for your overnight stay in Douarnenez here.
The next town along the coast, and separated from Douarnenez only by the inlet of Port Rhu is Tréboul (in fact, if you were walking straight through you may not realise you'd left Douarnenez!). You'll find plenty of accommodation in Tréboul if you didn't find a bed in Douarnenez, including—
Golden Tulip  
The Originals—les Résidences d'Armour  
Ty Mad  
Hôtel du Port Rhu  
Hôtel des Sables Blancs  
Manoir de Kervent  
Au Bon Coin  
Ty ar Pesketaer  
Campground Kerleyou  
Campground Croas Men  
Huttopia Douarnenez  
How to book accommodation in French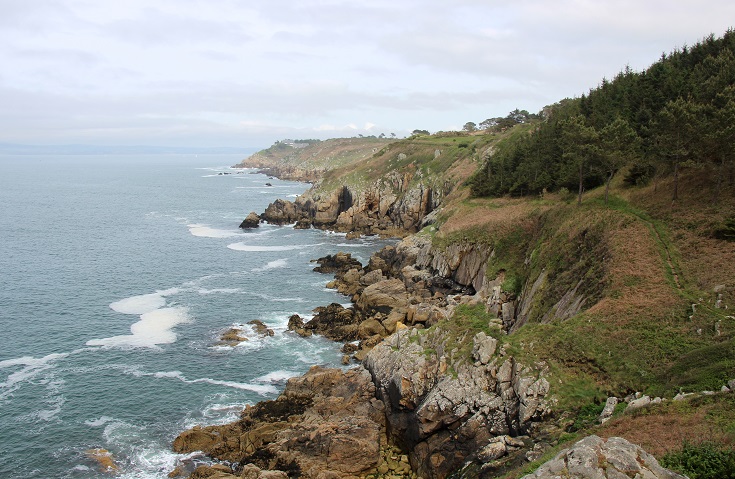 An hour or so after leaving Tréboul, near the hamlet of Keriéré, and there's rocky coastline in all directions!
There are several SOS points along this section of the coast where it is possible to get back to the main road from the GR 34 path.
I'm sure their main purpose is safety and rescue access but it also makes this area perfect for day walks if you've arrived by car or bicycle.
Wildflowers flourish in a cranny sheltered from the worst of the ocean winds at Pointe de la Jument.
Because the path is exposed to the wind and the sunshine, there were very few sections where the GR 34 remained muddy and boggy after rain. But here, approaching Pointe du Millier, tree branches have been laid down to provide a sturdy footing.
House overlooking Pointe du Millier—sheltered from the weather and away from the prying eyes of passing walkers.
Not so, this house, on the other side of Pointe du Millier, which stands braced against the elements—the perfect spot from which to watch the fury of approaching storms.
Not far past Pointe du Millier, and eighteen kilometres (11.3 miles) since leaving Douarnenez, you'll reach the beach at Pors Péron. Walk a short distance inland and you'll find campsites, cabins and luxury tent accommodation at Camping Pors Péron. (During July and August, these have a minimum booking period of one week, but nightly rentals are available during the low season.)
From Pors Péron the path hugs the coast, wriggling around many inlets and small bays. It's not hard to imagine smugglers sheltering in these tiny coves around Pointe de Kastel Koz.
Heading west towards Pointe de Luguénez where the lush summer grasses provide the perfect spot for a picnic lunch.
At Grand Crom, a program to re-establish the grasses and groundcover seems to be working well!
The hamlet of Penharn, located a short distance inland from Pointe de Penharn, and is almost seventeen kilometres (ten miles) from Pors Péron. There are two chambre d'hôtes—Chambres d'Hôtes de Keryann and La Ferme des Pecheurs—located near here, giving you the choice of stopping for the night or pushing on to Baie des Trépassés.
Boats moored in Baie de Brézellec.
Views towards Pointe de Castelmeur from Pointe de Brézellec.
Approaching Pointe de Castelmeur.
Perched on the edge of the cliff, just south of Pointe du Van, is a small chapel dedicated to Saint-They—a monk who lived in the sixth century and studied at the abbey in nearby Landévennec (learn more of the history of the abbey half way through this post).
This church, which was built in the seventeenth century over the remains of an earlier chapel, is a classified historical monument and is not usually open to the public (except on the first Sunday in July when the annual pardon, or procession, is held).
Inside the small stone wall surrounding the chapel of Saint-They, the cross which normally adorns the stone calvaire has been replaced with sixteenth-century statues of Saint-Jacques and the Virgin Mary, indicating that this may once have been a stop on an ancient pilgrims' trail towards the Compostella in Spain.
Legend has it that the bell of Saint-They, at Pointe du Van, rings spontaneously, issuing a warning to boats approaching the rocks and cliffs below—and has been credited with saving the fleet of the French king from enemy attack.
The rocky coastline between Pointe du Van and Pointe du Raz has proven to be the undoing of many ships over the last few centuries, earning this gentle sweep of beach the name Baie des Trépassés (or Bay of the Dead).
Although there are no other services on this sandy stretch of the coast, two hotels with wide sweeping views of the ocean provide the perfect excuse to stop for the night.
In Baie des Trépassés, you'll find accommodation at—
Le Relais de la Pointe du Van
Hôtel de la Baie des Trépassés
How to book accommodation in French
You'll find a complete list of accommodation available in all villages from Camaret-sur-Mer to Audierne (plus lots more useful information) in the guidebook.
Go back—
Section 1: Camaret-sur-Mer to Morgat (41 kilometres/25.5 miles)
Section 2: Morgat to Douarnenez (44 kilometres/27.5 miles)
Continue on—
Section 4: Baie des Trépassés to Audierne (26.6 kilometres/16.6 miles)