The GR 34 path along the coast of Brittany from Camaret-sur-Mer to Audierne is a glorious walk around rugged cliffs, wide headlands and gentle sandy beaches.
Section 1 starts in the port of Camaret-sur-Mer and reaches Morgat two days and 41 kilometres (25.5 miles) later.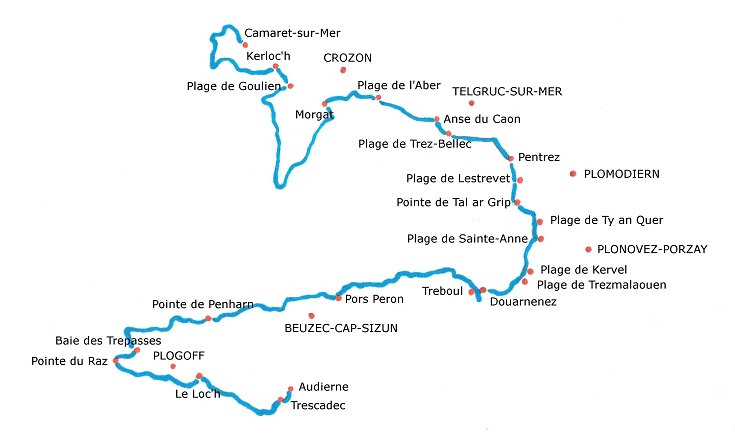 From Morgat, we'll follow –
Section 2: Morgat to Douarnenez (44 kilometres/27.5 miles)
Section 3: Douarnenez to Baie des Trépassés (47.5 kilometres/30 miles) and
Section 4: Baie des Trépassés to Audierne (26.6 kilometres/16.6 miles)
If you prefer to travel faster or slower, you'll find a map and a list of all villages between Camaret-sur-Mer and Audierne where accommodation is available towards the end of this post.
I recommend staying the first night in Kerloc'h. Since it is only 15.1 kilometres (9.4 miles) along the GR 34, there is plenty of time to spend an hour or two exploring the busy port of Camaret-sur-Mer.
As you follow the path out along the peninsula, you'll pass a collection of abandoned boats in the Cimetière des Bateaux. These decaying boats, which attract photographers and artists, are a tribute to the fishing industry that thrived here until the mid-twentieth century, when falling fish numbers led to a decline in the industry. As fishermen found it difficult to find buyers, unwanted boats were left to decay here in the port.
The nautical theme continues inside the church of Notre-Dame de Rocamadour, built between 1610 and 1683 (although the site is believed to have been a place of worship since the twelfth century).
It is thought that the name of this chapel is a reference to the church of the same name in Rocamadour, where a statue of the Virgin Mary watches over and protects sailors (legend has it that a bell above the statue in Rocamadour rings spontaneously whenever a sailor prays for assistance at sea).
Every year, on the first Sunday in September, a procession is held in the village of Camaret-sur-Mer, during which boats are decorated and a wreath is laid to honour the memory of all sailors who have died at sea.
Leaving Camaret-sur-Mer, tucked away behind one of those headlands, and climbing out to Pointe du Toulinguet.
A gentle descent from Pointe du Toulinguet down to Anse de Pen Hat, before the climb up to the next headland begins.
Views back over the beach at Anse de Pen hat.
Rounding the headland at Pointe de Pen Hir. A short distance before the path reaches the rocky point, you'll find stone bunkers and French, American and Canadian flags fluttering above a memorial which honours those who died during the Battle of the Atlantic, fought here during World War II.
Just beyond the ridge lies the village of Kerloc'h, my recommended stop for the first night. You'll find accommodation in the village at Trouz ar Mor, a chambre d'hôte with capacity for 11 people (five rooms).
The next day starts at a gentle pace, heading towards the sandy beach at Plage de Kersiguénou.
Thankfully, a track runs parallel to the beach avoiding the worst of the soft sand—which always seems to work its way into your boots!
Looking back from Plage de Kersiguénou with Pointe de Pen Hir in the background.
Leaving Plage de Goulien and a gentle climb up to the next headland.
Heading out towards Pointe de Dinan. My IGN map mentioned a château out on the point but I never did find it!
Spectacular rock formations at Pointe de Dinan and views across to Pointe de Pen Hir in the far distance.
Walking through the sand dunes behind Plage de Lostmarc'h.
Somewhere to sit for a few minutes and enjoy the view at Cap de la Chèvre.
Views from Cap de la Chèvre. In the far distance (108 kilometres/67 miles away) is Pointe du Raz, the most westerly point in France.
The path approaches the port of Morgat from a nature reserve, high above the town. Picnic tables make this a popular spot for families on weekends throughout the summer.
Like many port towns in Brittany that were badly damaged during WWII, the seaside resort of Morgat mostly consists of modern concrete buildings constructed over the last sixty years.
There are plenty of options for accommodation here, as well as a pharmacy and an ATM—services last found in Camaret-sur-Mer. In my suggested itinerary, I recommend stopping at Morgat on the second night. In addition to several hotels overlooking the beach, there are also two campgrounds, although both require a two-kilometre (1.2 mile) detour inland from the GR 34 path.
In Morgat, you'll find accommodation at—
Hôtel de la Plage
Hôtel de la Baie
Hôtel Julia
Kermaria
Camping les Bruyères
Camping les Pins
How to book accommodation in French
You'll find a complete list of accommodation available in all villages from Camaret-sur-Mer to Audierne (plus lots more useful information) in the guidebook.
Continue on—
Section 2: Morgat to Douarnenez (44 kilometres/27.5 miles)  
Section 3: Douarnenez to Baie des Trépassés (47.5 kilometres/30 miles) 
Section 4: Baie des Trépassés to Audierne (26.6 kilometres/16.6 miles)