Section 4: Baie des Trépassés to Audierne
Section 4 of the eleven-day walk along the GR 34 from Camaret-sur-Mer to Audierne starts in Baie des Trépassés and reaches Audierne four days and 26.6 kilometres (16.6 miles) later.
This is a relaxed pace, which allows for a two-night stay in Trescadec and a full day to spend exploring Île de Sein—the island visible from Pointe du Raz. The last day from Trescadec to Audierne is only two kilometres (1.2 miles) and can be included with your day's travel plans or spent enjoying this pretty port town.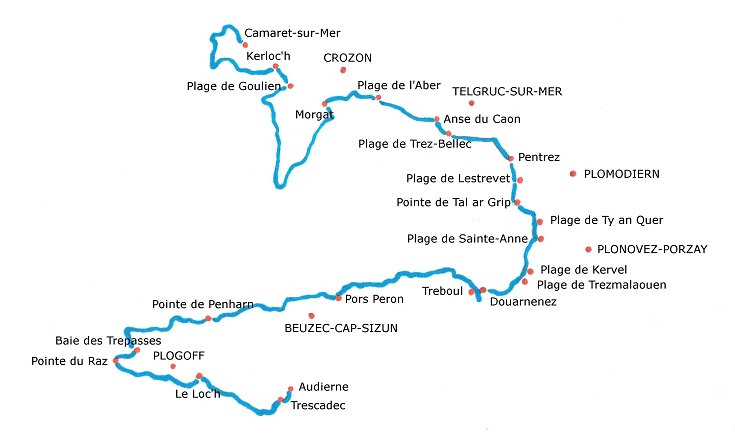 So far, we've walked—
Section 1: Camaret-sur-Mer to Morgat (41 kilometres/25.5 miles)
Section 2: Morgat to Douarnenez (44 kilometres/27.5 miles)
Section 3: Douarnenez to Baie des Trépassés (47.5 kilometres/30 miles)
If you prefer to travel faster or slower, you'll find a map and a list of all villages where accommodation is available towards the end of this post and suggestions for your overnight stay in Baie des Trépassés here.
From Baie des Trépassés, the rocky shore of Pointe du Raz can be seen in the distance—enticingly close but still an hour's walk away.
The most westerly point of mainland France is Pointe du Raz, one of the first areas to be granted Grand Site de France status, a classification which provides protection to 2,000 hectares of land around the point and extends north as far as Pointe du Van. Visitors arriving by car pay a small parking fee to contribute towards the ongoing cost of maintaining and protecting the walking paths and vegetation. But for those of us who arrive on foot, the views are free!
Visible in the distance is Île de Sein—a small, flat island eight kilometres due west.
The Information Centre at Pointe du Raz exhibits a series of models and displays explaining the diversity of wildlife and history of the peninsula and shorts a short film which gives a fascinating insight into daily life as experienced by villagers living on Île de Sein. (Ferries to Île de Sein depart daily from Saint-Evette near Trescadec, 25 kilometres further along the coast.
In the 1970s, Port de Feunteun Aod was earmarked for the construction of a nuclear power station. Thankfully, public outcry prevailed and it is still a popular fishing spot.
Although the path here at Le Loc'h is only four or five metres above the beach, there were many sections along the coast where the track followed the edge of the cliff quite closely. I never felt in any danger of falling, but if you don't have a head for heights, this may not be the walk for you.
The village of Le Loc'h is 14 kilometres past Baie des Trépassés. If you have spent an hour or two enjoying the views at Point du Raz, then Le Loc'h is a good choice for an overnight stop. You'll find accommodation at Hôtel Kermoor et Spa, Océane et Framboise (book through your favourite hotel booking website) and Campground Kermalero.
A sandy section alongside the beach at Trez Goarem.
Lighthouse at Pointe de Lervily.
Pockets of pink wildflowers brighten the path at Pointe de Lervily. Barely visible through the mist and the gloom is Audierne—now just four kilometres (2.5 miles) further along the coast.
Eleven kilometres (6.6 miles) further along the coast from Le Loc'h is the seaside village of Trescadec. If your time is limited, you could easily continue a further two kilometres (1.2 miles) on to Audierne and complete your walk. But I recommend stopping in Trescadec for two nights and using your free day to take the ferry out to Île de Sein—the island visible off the coast from Pointe du Raz.
In addition to Hôtel de la Plage (which I can thoroughly recommend), accommodation is available next door at Villa Keris and a little further along the coast at Au Roi Gradlon.
View from the window of Hôtel de la Plage.
A kilometre or so back along the coast away from Trescadec is the village of Sainte-Evette. It is from here that ferries run to Île de Sein. In July and August, ferries make the return journey three times each day. In the low season, the ferry leaves Sainte-Evette once in the morning and returns from Île de Sein in the late afternoon.
I confess that I ran out of time during my visit and could not get across to the island but you'll find some photos on the Brittany Tourism website to whet your appetite. At just 1.8 kilometres (one mile) long and half a kilometre wide, the island can easily be walked around in a few hours, leaving plenty of time to visit the lighthouse and museum and enjoy a leisurely lunch at one of the picturesque cafés.
From the beach at Trescadec, the lighthouse at Audierne is just a half hour walk away.
No matter whether you finished your walk in Trescadec and are just passing through Audierne, or if this is your destination for the night, allow an hour to wander the streets of this delightful port town.
Call into the Tourist Office when you arrive and ask for a map which shows a 45-minute walk around town, taking you past Audierne's oldest house (dating from the fifteenth century), and the churches of Saint-Raymond and Saint-Joseph, before climbing the hill for spectacular views over the port. (The English version of the map can be hard to make sense of unless the streets are well labelled so ask the Tourist Office to mark the highlights on your map.
If you are staying the night in Audierne, you'll find accommodation at—
Le Goyen  
Vent d'Ailleurs (book through your favourite hotel booking website)   
Aline Priol  
Les Hauts de Kersudal  
L'Estran  
Campground Kerivoas  
How to book accommodation in French
You'll find a complete list of accommodation available in all villages from Camaret-sur-Mer to Audierne (plus lots more useful information) in the guidebook.
Go back—
Section 1: Camaret-sur-Mer to Morgat (41 kilometres/25.5 miles)
Section 2: Morgat to Douarnenez (44 kilometres/27.5 miles)
Section 3: Douarnenez to Baie des Trépassés (47.5 kilometres/30 miles)